Caring, Together: An Intergenerational Approach
By Laura Hahn, July 12, 2012 09:30 AM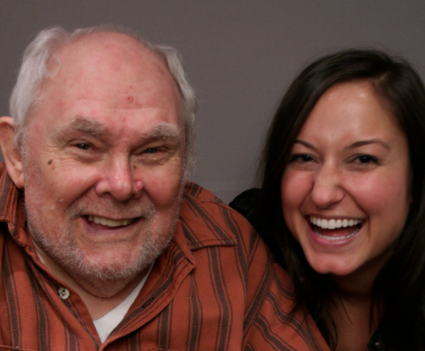 My friend Arthur and I like going to the theater together. So, this past Friday when we were hanging out, I read him the upcoming schedule for our favorite company.

"Sigh-ray-no de Burger-ac," I fumbled, a few shows down the list. The description said it was a timeless classic with some of the wittiest lines ever written for the stage. But, to my former-English-major embarrassment, I was completely butchering the title.

"Kai-ran-o de Bur-jer-ack? Is that it?" I held it up so he could take a look.

"Cyrano de Bergerac! Of course! It's a classic," he said before launching into a plot synopsis.

"How do you know everything, Arthur?" He shrugged.

"I've been alive for a long time."

Arthur is 87, and I'm 29. I guess we're an unlikely pair, but that's okay by me. He's one of my closest friends. We talk about everything - our families, our careers, our loves; his memories of the Navy and of Brooklyn, where he grew up and where I now live. Why I'd ever choose an apartment outside the great borough of Manhattan is lost on him, but otherwise, our outlooks align. Or if they don't, we discuss them and debate them and laugh.

Our friendship started three years ago, with an online ad. An organization called DOROT (meaning "Generations" in Hebrew) was looking for people to visit homebound seniors. The commitment was an hour a week, for a minimum of one year. I filled out an inquiry, and after an interview and a reference check, DOROT paired me with Arthur. He was a retired English professor, I was told, born and raised in New York, whose wife had passed away a few years before. I was an aspiring journalist still relatively new to town, from a family of academics. We hit it off.

I feel comfortable with Arthur and with seniors, I think, because I've always been close with my grandparents, especially with my grandfather Bernie, who I call Pop Pop. He was born in 1916, and will turn 96 next month. It's a special gift, being a grandchild in my 20s. I've had him in my life through years of big changes - new jobs, new apartments, new relationships - and he's always been there to offer his perspective and advice. He lives in a small western Pennsylvania town that's a six-hour train ride from the city. I visit as often as I can (usually every couple months), and I call him each day at 11:30 a.m., right before his lunchtime.

When I talk about my friendships with Arthur and my Pop Pop, I get a lot of oohs and ahhs and you're-so-sweets. Maybe. But I'm no hero. I'm not Abina, Arthur's home aid, who bathes him and cooks for him and puts him to bed every night. I'm not one of the 40 million caregivers out there like my Aunt Pam, who manages Pop Pop's day-to-day routine. I'm not doing the heavy lifting. But I am doing some of the lifting, some of the uplifting. I'm a friend - someone to whom they can speak candidly and openly, someone who treats them like people instead of patients. I love their company, and I make absolutely sure they know it.

I'm not alone in all this. With people living longer than ever before, there are thousands and thousands of grown-up grandchildren just like me, who respect their elders and want to make the world a better place to grow old. We hear a lot about caregiving from people my parents' age, but we don't hear enough from people in their 20s and 30s. I think it's time for my generation to pipe up and join the conversation because we're here, too. And we're in it together.