Let's Dance: Generations Step to the Beat
By Laura Hahn, April 4, 2013 09:00 AM
It's wedding season again, which means... it's dance season!

Or at least that's how I look at it. As far as I'm concerned, there's nothing better than the dance floor at a wedding. Old and young, experienced and not (mostly not), everyone comes together to celebrate. Six year olds hear their first Sinatra; 86 year olds hear their first Rihanna, for better or for worse.

I say better.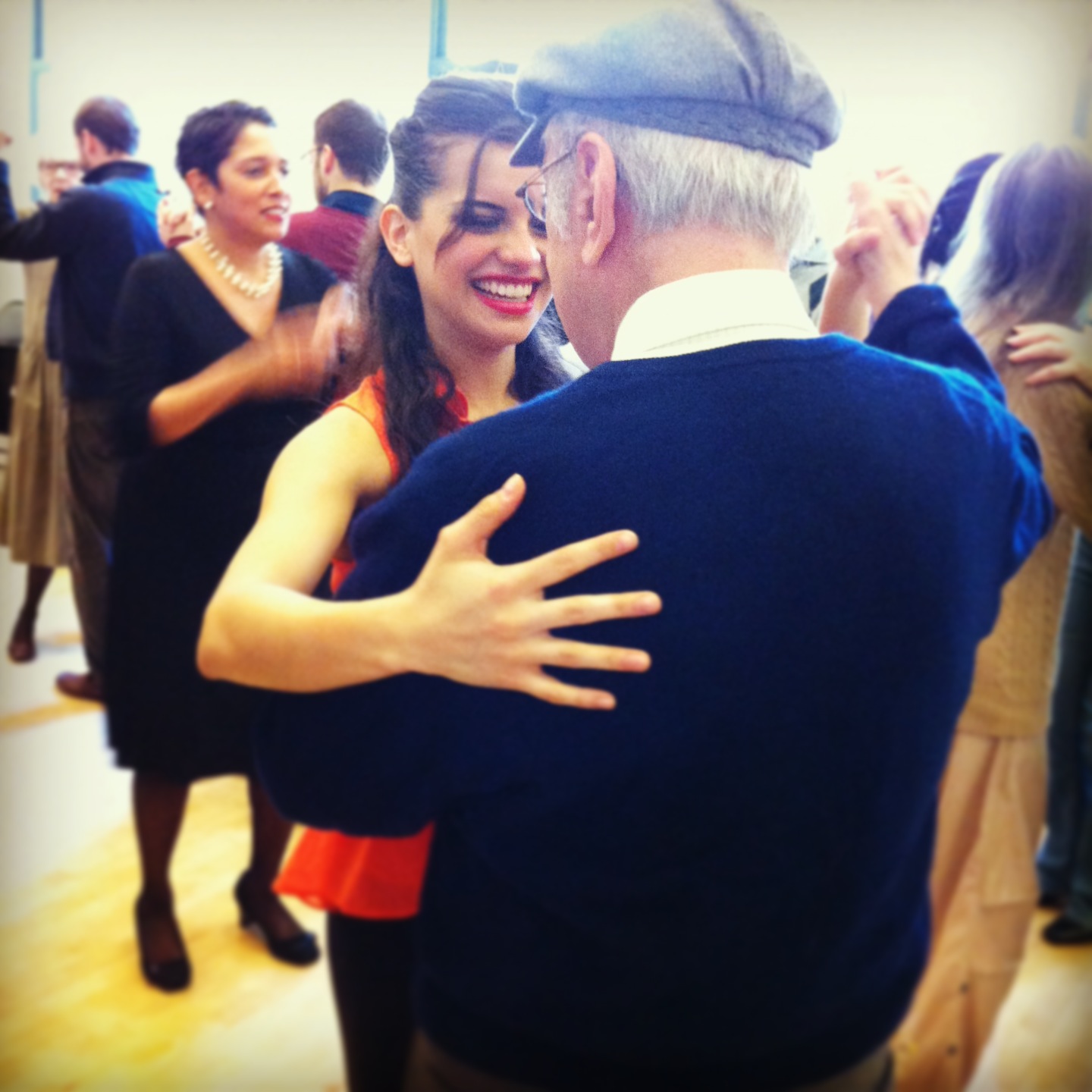 A few weeks ago, our DOROT Young Professionals group got a jump on wedding season with our first-ever dance lesson with Ballet Hispanico, a nonprofit that celebrates Latino culture through dance. We've put on a lot of successful intergenerational events - like our dinner parties - but this one brought everyone to their feet.

It was a Sunday afternoon, and we managed to gather quite a crowd: 20 older adults, 19 young professionals (in our 20s and early 30s), two Ballet Hispanico dancers, and one very charismatic instructor named AnaMaria, the director of Ballet Hispanico's School of Dance.

The program started with an introduction to the music of Puerto Rico and the Dominican Republic, with two duets by the dancers. Minus the music and AnaMaria's voice, DOROT's auditorium was completely silent. We were blown away, and ready to try it ourselves.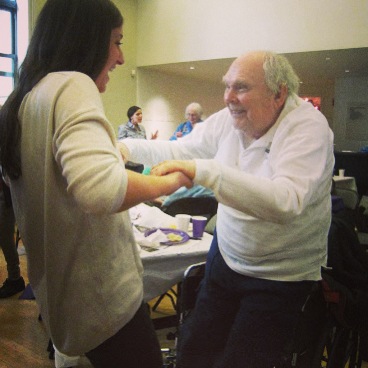 AnaMaria invited us to form a circle for three dance lessons: salsa, merengue, and bachata. We started off solo, getting a feel for the steps, and then we worked our way into pairs. For a while, Arthur (yes, of course I brought him!) watched from his wheelchair, but that didn't last long. He loves to dance almost as much as he loves to go to the theater. I moved him closer to the circle, and helped him stand for the choruses.

As AnaMaria led us through the combinations, the energy in the room soared. We were trying and learning and laughing, together. Most of us were beginners, which took some pressure off, but really, we had checked our self-consciousness at the door. The older adults, especially, came out ready to move. We wound up following their lead.

It was a special day, and everyone in the room felt it. Val and Natasha, a married couple who had attended DOROT Young Professionals events in the past, pulled a few of us aside.

"This is wonderful."

"Dancing with you makes us feel reenergized. It makes us feel young."

I responded with something to the effect of, "Likewise." It's true. The spirit, the enthusiasm, the excitement - that doesn't happen every day for our age group either. There was something about being together and letting go, leaving the outside world (our to-do lists, our deadlines, our wheelchairs) for a while, and just saying, "Let's dance."

We don't have a date on the calendar for our next afternoon with Ballet Hispanico - yet! - but here are some things we learned for future dance-related volunteer events:

Remember the H20: A few songs in, we realized we didn't have a water station ready. We scrambled to pour cups. Dance is a real workout for all ages! Hence, hydration is key.
Switch partners: The lesson was a great time to mix and mingle with new people. The older adults particularly enjoyed the opportunity to dance with the Ballet Hispanico dancers. (That's Val with their leading lady in the photo up top.)
Turn up the tunes: Music has all kinds of health benefits, triggering memories and emotions and reasons to move your body. We could have had a soundtrack playing lightly from the time our guests arrived.
Give a take-away: We handed out roses not only to the professional dance crew, but also to the older adults, as a way to say thanks. It was also meant as a reminder of our time spent together. They seemed to appreciate the gesture.
By the end, a few stars had emerged among us. Carol, who arrived late and stationed herself in the back of the room, called out over the crowd, asking AnaMaria if she could take a turn with one of their choreographers. This happened:




Shortly after, Jaime, who is originally from Argentina, requested a tango with AnaMaria. No music? He offered up his iPod. This happened:




Yep, quite a day indeed. I think we all left feeling a little lighter on our feet - and a lot warmer in our hearts.

Do you have family members or friends who love to dance? How do you help them keep moving?

Also of Interest

Join AARP: Savings, resources and news for your well-being


See the AARP home page for deals, savings tips, trivia and more