Online Dating: How About We ... Start Again
By Becky Gillan, April 9, 2013 01:54 PM
I suspect most people can remember their first kiss, first date, first love - and have even rated those experiences versus subsequent encounters with rose-colored glasses. How many of us have ended up marrying or living for an extended period with their first love? Or maybe you split up and haven't heard from them since. I married my high school boyfriend, but not until 20 years after graduation. The marriage did not last (over 60% of second marriages end in divorce and I was his second), and with no children to maintain ties, we have not stayed in touch.

AARP recently signed a new partner, HowAboutWe. It is not only a dating site, but also a relationship resource for singles and those in relationships. It's based on the premise that users propose and accept specific ideas for individual dates that are built on the prompt "How about we ..." For example, "How about we ... check out a new restaurant?" or "How about we ... see a show at the theater." You get the idea.

It has made me wonder if love is lovelier the second time. I have to admit I am afraid of rejection, but AARP research shows that married people or those in a partnership are happier. In fact, they report being "very happy" almost twice as much as single people.

I know that finding "the right someone" won't be easy. My boss, who is about my age, told me that he can date anyone age 20-plus, but I cannot. I do know a number of women who have met their true loves on dating websites.

One in particular married her first match and she now says, "I bought my husband for $30 online."

I am also a little concerned about privacy, but I went on HowAboutWe and it seems easy and fun. The site is really "helping you to find people who like the same places and want to do the same things as you."

What's next - Should I be one of the 57% of women who date online?

Check out our new fact sheet on online dating & find out why many 50+ are dating online: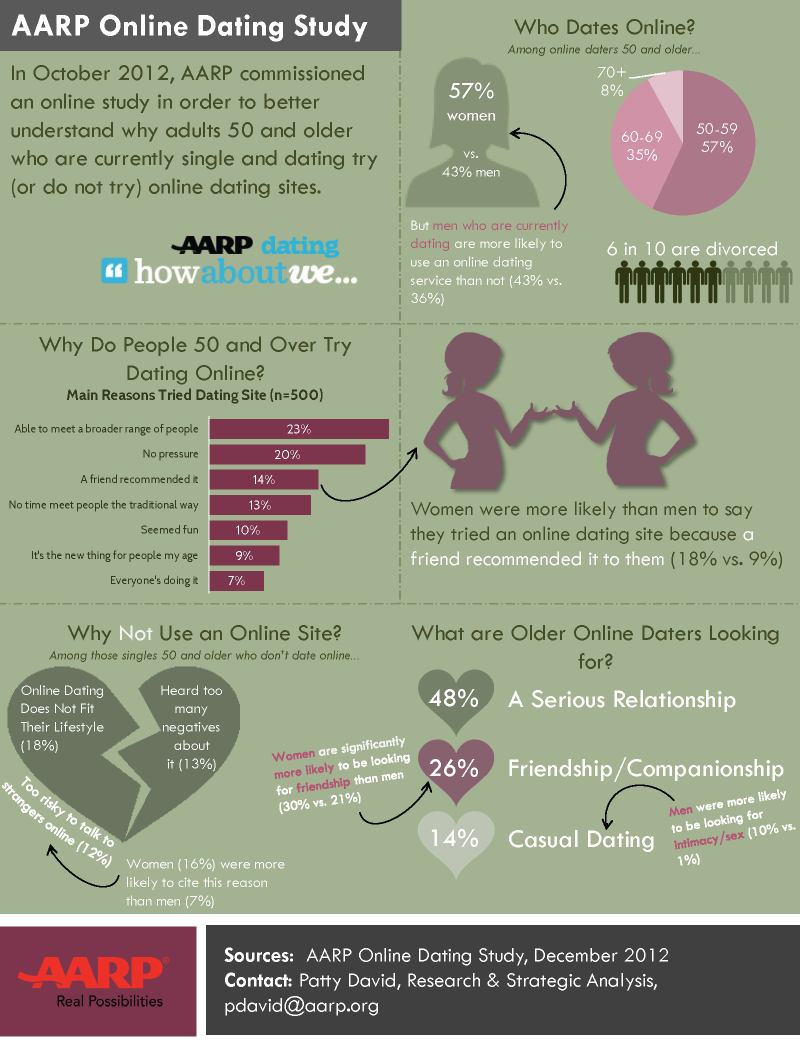 More AARP Research on Dating and Relationships:

AARP 2013 Online Dating Study

AARP's 2012 Happiness Study

More on Becky: Becky is AARP's Senior Vice President of Research & Strategic Analysis, and is focused on fostering understanding of the interests and concerns of people age 50-plus and their families. Before coming to AARP, Becky served as the Vice President of Global Market Research & Guest Satisfaction for Starwood Hotels & Resorts. In her spare time, she likes visiting her niece in Ohio, gardening, and collecting American art and antiques.