How to Be A Social Worker at 52: Sylvia Abrego-Araiza
By Beth Carpenter, January 11, 2011 05:14 PM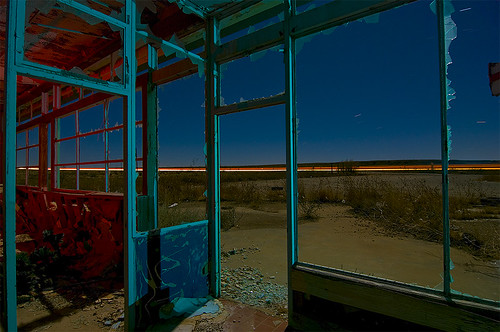 (Looking out the front of the abandoned Chevron station located on I-40 at Exit 0, near Glenrio, on the Texas / New Mexico border. Via.)
(Written by Lindsey Zoladz.)
This morning Jane Pauley stopped by the TODAY Show with her latest Your Life Calling segment. This month she profiles Sylvia Abrego-Araiza, a mother of two who became a social worker at the age of 50. Sylvia joined Jane in the live chat this afternoon, along with Tracy Whitaker from the National Association of Social Workers. Topics of conversation ranged from volunteering in social work to the personality traits required for the job. Whitaker even mentioned the way she's able to use her mediating skills in her social life - and her marriage. Here's an excerpt of the conversation:
Patrick: Where are the biggest needs in social work these days? Age groups, demographics, and geographically? Are these needs currently being met?
Tracy Whitaker: Hi Patrick. People re-entering communities from prison are a growing target population that will have many needs. Also, soldiers returning from overseas will also need more services. The social work profession itself is also in need of more professionals because so many are retiring.
Ed: Are there people who just volunteer with social work? I'm interested in helping out in my retirement years but I don't want to work a full-time job or go back to school. Thanks.
Sylvia Abrego-Araiza: There are so many volunteer opportunities in the social work field. I volunteered for 5 years at the juvenile probation department. Just yesterday I was speaking with a colleague who requested volunteers for MADD. I encourage you to explore the many options in your community.
Tallison: Do the trials and challenges of social work spill over to your personal life?
Jane Pauley: Tallison, as a reporter, I know there are personalities who seem drawn to the fire, so to speak. I've had colleagues who gravitated toward calamity--the scene of an earthquake, for instance. Others were more inclined to stories that taught something. Dozens or scores of different emotional zones are encompassed under the umbrella of journalism.
I think in social work it would be the same. Some individuals will have a high tolerance for emotion or the ability to compartmentalize. Such a person might do better in some aspects of social work than another. So you would want to choose a field that best matches your temperament.
Stuart: Does your social work training enable you to be any more effective in dealing with family issues, or helping to resolve disputes amongst friends?
Tracy Whitaker: Hi Stuart, I'd like to think that I'm more effective in dealing with my family issues, but my husband might disagree! However, I do think that being a social worker helps me understand some of the dynamics that motivate human behavior and helps me defuse some situations, both at home and in the workplace.
You can find more resources for pursuing a social work degree at NASW's web site and read more about Sylvia here.