Mayhem in the Quiet Car
By Becky Gillan, December 05, 2012 06:13 PM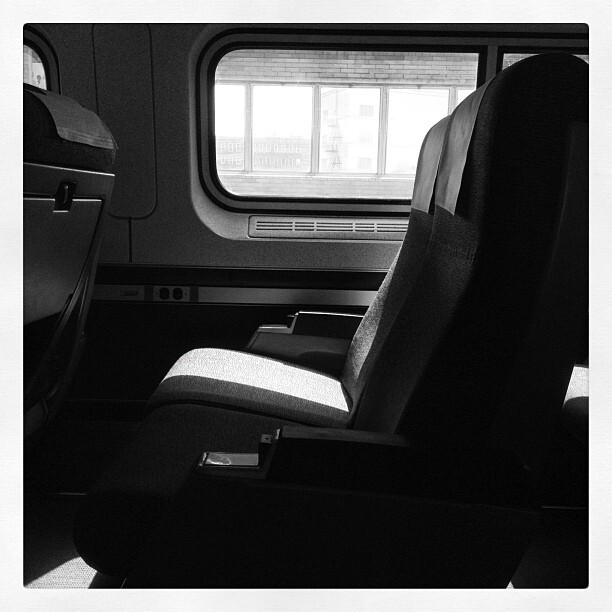 If you've ever taken Amtrak, you may be familiar with the "quiet car." This car (as recently described in a New York Times article) is a haven from the constant noise, music and conversation that invades many of our lives. I myself am a regular quiet car rider. It's a usually peaceful experience and I use the time to catch up on research reports or read a book. But every so often we experience an "incident." The Wednesday before Thanksgiving is the busiest travel day of the year, and my 2pm train ride that day revealed what mayhem can ensue when the usual experience is disrupted.

My first indication that today would be different is that we had some non-regulars in the car due to the crowded conditions on the train. Most notably was a group of four women in their Golden Years who generally complied with the noise restrictions, but had also decided "quiet" only meant when the train was moving. When it stopped at the various stations, they would chit chat to the people leaving and getting on. One woman, whose husband had passed away in August, was going to Stamford so she wouldn't be alone on Thanksgiving. The woman beside her had lost her husband in April and she asked the Stamford traveler "if her hubby was a good one" to which the woman instantly replied "the best." The usually insistent quiet car crowd was a little more forgiving to this group of women, enjoying their brief but warm interactions with fellow travelers. Perhaps we were all a bit excited about the prospect of seeing our own loved ones on the upcoming holiday.

Hearing these women talk about their families made me think about how much of our research at AARP focuses on the importance of family and relationships. In our recent Happiness study, the most important contributor to Happiness out of 39 possible selections were "kissing or hugging some you love" tied with "watching your children, grandchildren or close relative succeed." In study after study we find that family is what really matters to our members, and what influences their decisions about how to spend their time and energy.

The trip continued uneventfully until we stopped in Newark, where the conductor announced we would be significantly delayed due to a switching problem at Penn Station. After the announcement, it was mayhem in the quiet car-everyone started using their cell phones to call family and friends and let them know about the delay. Update calls were made when we knew how long it would take and again an hour and a half later when we finally started moving. The regulars normally guard our quiet car rules closely, but when push comes to shove, relationships with our family and friends are central to who we are. And the holidays remind us of that. The sounds of cell phone conversations in the quiet car usually result in sharp reprimands. But on this day, hearing my fellow passengers break their own rules to touch base with their loved ones, was a pleasant sound to all of us.



Photo: Courtesy of OnePinkHippo @ Flickr

More on Becky: Becky is AARP's Senior Vice President of Research & Strategic Analysis, and is focused on fostering understanding of the interests and concerns of people age 50+ and their families. Before coming to AARP, Becky served as the Vice President of Global Market Research & Guest Satisfaction for Starwood Hotels & Resorts. In her spare time, she likes visiting her niece in Ohio, gardening, and collecting America Art and antiques.