Morning AARP: In Need of Repair
By Beth Carpenter, September 7, 2010 09:30 AM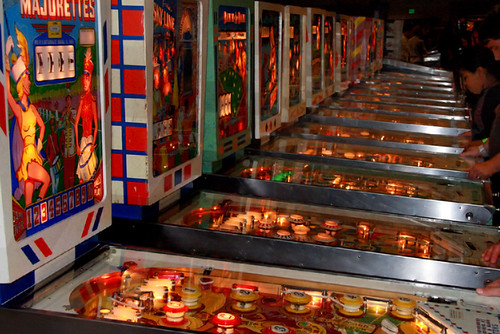 (via Vic DeLeon)
This makes me sad: "You think it's a pain getting a repairman to come fix a knob on your washing machine? Try finding someone who will replace the flipper assembly on your pinball machine."
Man, I loved my grandmother's pinball machine. Playstation's got nothing on the thrill of dominating that pinball game.
Anyway. So this was a nice long weekend! Your morning headlines as you recover: Nursing homes are expanding services and offerings to turn a profit in a tough economic climate; your latest off-label cancer medicine: mushrooms. The hallucinogenic kind. France is having problems getting its pension system in the black, attempts to raise retirement age from 60 to 62... unsurprisingly, this draws protests. And if you haven't checked out President Obama's Labor Day speech (I was busy not laboring - so I hadn't either) here's your money quote:
"We are going to rebuild 150,000 miles of our roads -- that's enough to circle the world six times. ... We're going to lay and maintain 4,000 miles of our railways -- enough to stretch coast-to-coast."
Happy Tuesday. Summer isn't technically over yet, and we plan to enjoy it while we can.