Remembering 9/11 With Acts of Service
As we remember Sept. 11, 2001, stories of good deeds that sprouted from that tragedy abound.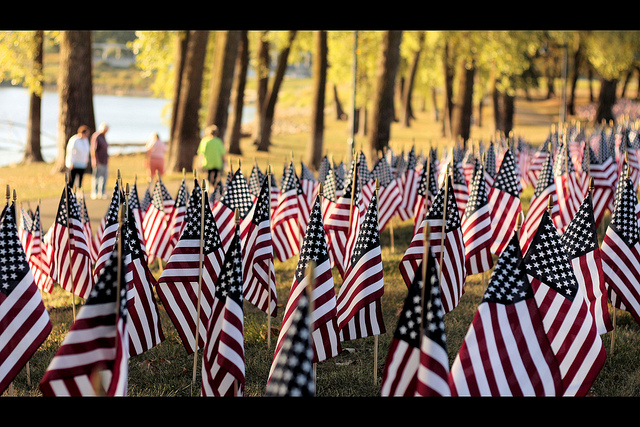 One of them is how the tiny Canadian town of Gander, Newfoundland, and neighboring communities came to the aid of passengers aboard 38 planes that were hurriedly diverted to the North Atlantic fueling stop.

Grateful passengers and crew members on one Delta flight - who received food, shelter and whatever they needed for their unexpected stay - decided to pay forward the kindness by starting an endowed scholarship fund for college-bound students in Lewisporte, Newfoundland. In the past 10 years the fund has grown to more than $1.5 million and has helped more than 130 students attend college or university.

Acts of kindness and service continue across the nation as we observe the 12th anniversary of Sept. 11. Here's a sampling of projects that emanate the can-do, volunteer spirit:

Massachusetts Military Heroes Fund and the New England Center for Homeless Veterans - Boston. Like New Yorkers on 9/11, Bostonians also saw firsthand the bravery and skill of its police and firefighters in the aftermath of the marathon bombings last spring. On Sept. 11, the spotlight turns to active-duty military and homeless veterans who also deserve respect and support. Volunteer projects include assembling care packages, writing letters to troops and pledging money for the families supported by the Massachusetts Military Heroes Fund.
AARP Day of Service - in communities nationwide. Three months after the attacks on Sept. 11, AARP began sponsoring an annual "Day of Service," in which hundreds of staff and volunteers serve their communities across the country in a variety of ways. They will once again fan out in cities and towns to participate in projects ranging from painting seniors' homes to cleaning up local parks and waterways.
9/11 Memorial Site Preparation - Benton Harbor, Mich. Since April 2011, a 5-by-2-foot, 550-pound section of steel beam from the World Trade Center has been housed at the Berrien County Red Cross. Public and private entities as well as volunteers will work together on Sept. 11 to prepare the memorial site where the artifact will have its permanent home at the Benton Harbor Public Library. Funds are being raised for the development and ongoing maintenance of the memorial site.
Memorial Stair Climbs - in communities nationwide. All over the nation, participants in these events will raise funds and public awareness by climbing the equivalent 110 stories in memory of the 403 firefighters, police officers and port authority officers who died on 9/11. Participants in Sacramento's 5th annual 9/11 Memorial Climb, for example, will place the name of a fallen hero on the back of a firefighter coat and carry it 110 floors to the roof of the Renaissance Tower. Proceeds from the event will benefit the Widows and Children's Fund of the New York City Fire Department. To see if there's a similar event near you, call your local fire department.


You can find more volunteer opportunities for 9/11 and beyond at sites such as 911day.org, UnitedWeServe and CreateTheGood.



Photo: Phil Roeder via Flickr



Also of Interest



See the AARP home page for deals, savings tips, trivia and more