She Might Be (Healthy) Soul Food's Biggest Champion
If you're celebrating National Soul Food Month and Juneteenth this month, you're probably well acquainted with crispy fried chicken, ham hock-laden collard greens, smothered pork chops and gooey macaroni and cheese.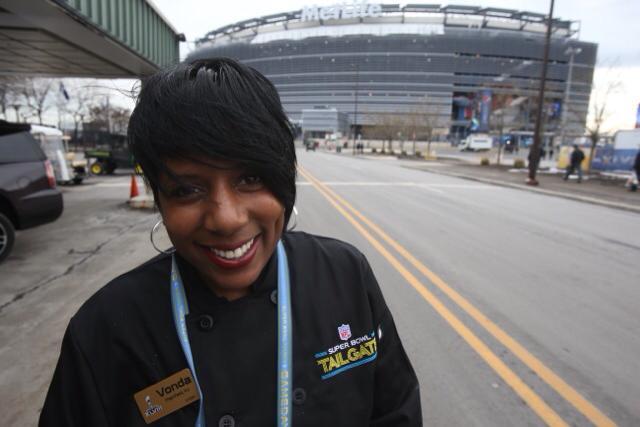 But what about wheat sautéed tilapia salad, grilled salmon cake panini, black-eyed pea dip and roasted green beans? In the eyes of restaurateur Vonda McPherson, that's soul food, too.
The chef and owner of Vonda's Kitchen in Newark, N.J., is on a mission to make fresh and organic a part of the lingo of soul food cooking and eating. She calls her menu offerings "down-home, clean food," which she had the opportunity to showcase as one of the vendors at this year's Super Bowl at MetLife Stadium in East Rutherford, N.J.
>> Sign up for the AARP Health Newsletter 
"We provide our customers with choices and options," says McPherson, who left corporate America more than 15 years ago to pursue her passion for cooking and entertaining. "You can get food any way you like" - from blackened and baked to roasted and steamed. Forget the added fat. McPherson favors fresh herbs and little to no salt at her eatery. In fact, Vonda's Kitchen is among the growing numbers of restaurants - yes, even soul food restaurants - embracing wholesome food.
" African Americans are thirsty for something healthy," and many want to change their food choices to ward off or control conditions like diabetes, high blood pressure and heart disease that run rampant in the black community, she says.
But McPherson doesn't diss the traditional soul food fare. So among the multigrain pancakes, brown rice and beans, and vegetable soul rolls are favorites such as smothered turkey wings, fried catfish and candied yams. But she says they're prepared more healthfully with less sugar, salt and, well, grease.
>> Get travel discounts with your AARP Member Advantages.
Besides being a proponent for healthy eating, McPherson is also a champion of urban revitalization. She opened Vonda's Kitchen in 2012 in Newark's Central Ward, a downtown area that was hard hit by the 1967 riots. Her bright, upbeat restaurant helped bring new spirit and energy to the neighborhood. A few blocks over, she will open the upscale Duke's Southern Table, which will feature live music, in August.
So with an emphasis on healthy choices, any plans to add tofu to her menu for diners? McPherson chuckles. "No, they're not ready for that."
Photo: Courtesy of Vonda McPherson
Also of Interest

See the AARP home page for deals, savings tips, trivia and more