Striking a Balance in Dating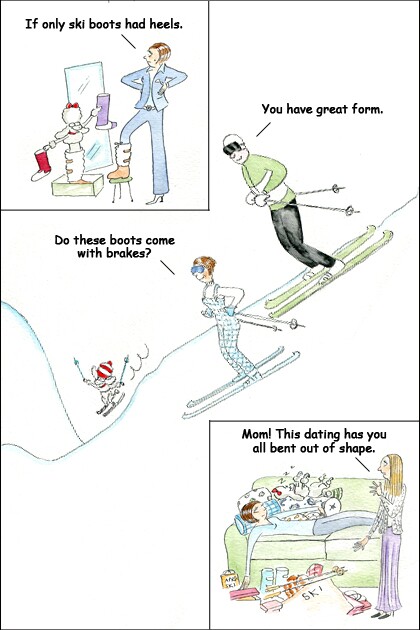 In the last post, Segunda and I continued our quest to negotiate the mountains and molehills of dating. I decided to step outside my comfort zone and placed a call to the German "Mr. Clean," the suitor who stood out for his rugged good looks and sense of adventure. Not only did he answer my call, but by the time I'd placed the phone back on the receiver, I'd said yes-to a mountain.
A winter weekend getaway in Vermont, I reasoned, would help settle the question of whether our opposites would attract. But first things first: If this country boy was going to expose this city girl to the elements, she was going to need a whole new wardrobe.
There's nothing like speeding down a mountain in new winter gear, wind invigorating the senses and giving you a new perspective. Dating in your second youth comes with a whole new set of considerations. For me, gone were the days of insecurities. Instead, I wanted balance in my relationships (even as I struggled to keep myself upright on my skis). I approached this getaway with a sense of adventure, but also asked myself: How open is too open? How does one know if one is trying too hard to make something work?
To ensure my physical safety, my suitor trailed me to the bottom of the mountain and, when I looked back, his caring smile warmed me. Though he was quite conservative in his views and food choices, he was gracious and remained receptive to my liberal thinking and eclectic tastes. And we shared taste in music and had similar life experiences, ranging from raising children to being recently divorced. The lodge beckoned with its promised warmth and selection of wine and cheeses. And I could feel the chemistry warming me up too.
As the weekend progressed, I began to feel something inside me melt. Despite our "opposites," maybe the "sames" could nurture a relationship. But a question still remained: When a relationship seems worthwhile pursuing, don't both partners need to be flexible?
Only time will tell. But, as I strapped on my ski goggles, I decided to give the mountain-and Mr. Clean-another shot.
-Gaby