Thanksgiving: the Music of Memory
By Al Martinez, November 21, 2013 11:52 AM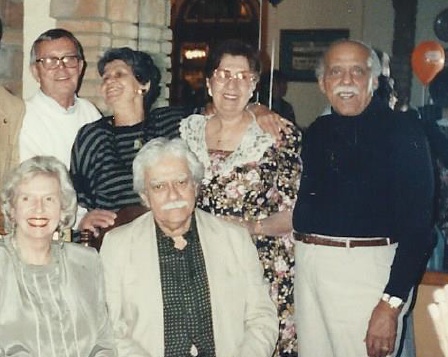 We sang with a muscled verve never to be denied. It thumped through the small Oakland house like the drums of an anthem-and in a way it was. The song was "The Three Caballeros," and we were three indeed, a soldier and two Marines, and we were brothers. We sang it on Thanksgiving Day.

>> Sign up for the AARP Leisure Newsletter

That first rendition was offered on the holiday Thursday sometime in the late 1950s. Eddie, who had been in the Army, and Bob, who had been a Marine, had made it through World War II physically unscathed. I had joined the Marine Reserves and had spent 15 months fighting in Korea. Counting us, our young kids and our parents (but not the barking dogs) we had 18 souls around the calamitous table. Happy chaos was the rule of the day.

Eddie and Bob were my brothers-in-law, but we acted like brothers, and we sang like them with both affection and gusto, if you can imagine the combination. That Thanksgiving was held at Eddie's, not far from where I was born and where I spent my youth. In the years that followed, we rotated houses for our Thanksgiving feasts. But no matter where we were, we sang.

Bob more or less played the ukulele and by the time the second drink was being poured our voices were rising. We sang the "Marine Corps Hymn," the Army's "The Caissons Go Rolling Along," and even "Anchors Aweigh," though no sailors were among us. Other tunes were included later. Family sometimes joined in, but mostly it was Eddie, Bob and Al. And our last song was always "Three Caballeros," offered something like a finished performance, sung fortissimo:

"We're three caballeros/three gay caballeros/they say we are birds of a feather/we're happy amigos/no matter where he goes/the one, two and three goes/we're always together..."

>> Get travel discounts with your AARP Member Advantages.

I can see the moment as a tableau of loving memory, the sleepy children carried or led to their cars, parents snuggling them close, husbands climbing behind the steering wheels, and our voices trailing into silence, clinging to the last notes of the Thanksgiving party, thankful in many ways for all of us.

Bob died first and then Eddie. I am the last caballero, but the song of we three will linger to the last Thanksgiving. "We're bright as a peso/who says so?/we say so/the three caballeros..."













Also of Interest



See the AARP home page for deals, savings tips, trivia and more