The Desserts of Life: Grandparenting Rewards Us All
By Becky Gillan, January 23, 2013 02:05 PM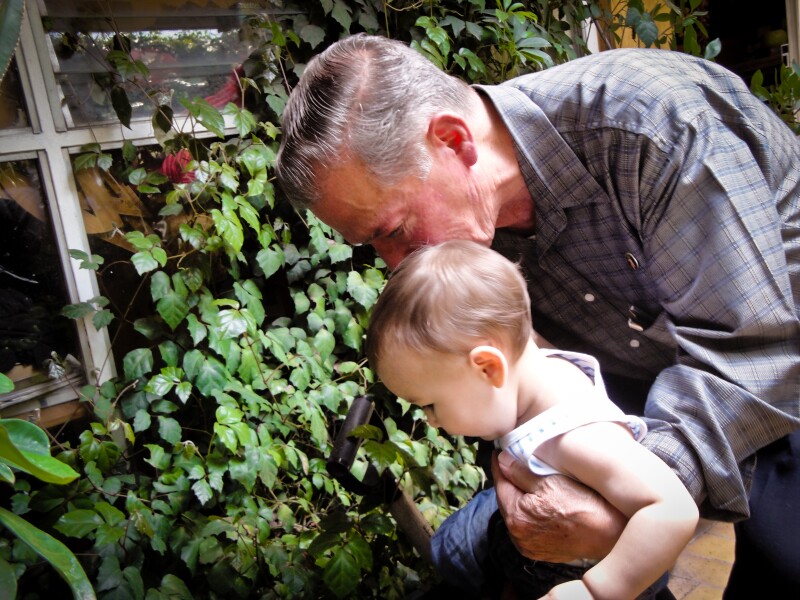 I am not a grandparent yet, nor is my twin sister, so we are way behind the curve as the average age of a grandparent is 47. In fact, according to AARP's recent Grandparenting study, only 8% of adults become a grandparent at 60 years of age or older. My Dad managed to become a grandfather for the first time at age 75 with his one and only grandchild, my niece Katie. Again, way behind the curve, as 91% of grandparents have 2 or more grandchildren and 55% have five or more.

But what he lacked in quantity, he more than made up for in quality with the 9 years he had with Katie. I remember being at my parent's on a lazy Sunday afternoon when Katie called asking PopPop if she could come over and play. Katie had two favorite activities with her PopPop. Dad would set up card tables with blankets and sheets over them and they would play "tent" for hours in the basement. But Katie's real favorite was "grocery store". She would take out the canned goods and packages from the pantry and my Dad would buy them and she would be the checkout clerk. My Dad had worked for an electronics company and had several antique key ring cash registers. Moreover, he has lots of coins and bills from all over the world as he headed up the International division at one point. Katie insisted you pay over the amount due so she could write up the bill and make change using a calculator. And her grandfather was an enthusiastic customer.

Grandparents today continue to take an active role in their grandkids lives. One-tenth have their grandkids living with them and one-third provide daily daycare (among those that are not primary caregivers). It's not just about physical caring for the grandchildren, as more than one-third (37%) contribute to their everyday living expenses. In fact, in our grandparenting study, respondents said they cut back on travel, eating out and their own expenses during the recession, but not helping with the expense of raising the grandkids.

Grandparenting is an activity that older Americans truly enjoy. And, like my Dad, grandfathers have taken a more active role -43% of granddads say it is their role to spoil their grandchildren versus 33% of grandmothers. Ninety-three percent of grandparents who take care of grandchildren thoroughly enjoy the job and 66% think they do an above average job of caring for them. Grandparents see their role as taking grandkids to cultural events (72%) and teaching religion and spirituality (67%). Further, they think it is very important to impart values (80%) and family heritage (66%) that parents may not do or be familiar with. A fellow researcher labeled grandchildren the "Desserts of Life." I know that's how my dad thought of Katie, and I'm sure the memories with her granddad will be cherished for the rest of her life, and into her own parenthood and grandparenthood.



Photo credits: Coatl28 @ Flickr ( CC License)

More on Becky: Becky is AARP's Senior Vice President of Research & Strategic Analysis, and is focused on fostering understanding of the interests and concerns of people age 50+ and their families. Before coming to AARP, Becky served as the Vice President of Global Market Research & Guest Satisfaction for Starwood Hotels & Resorts. In her spare time, she likes visiting her niece in Ohio, gardening, and collecting American Art and antiques.