Who's the Man Behind This Picasso Masterpiece?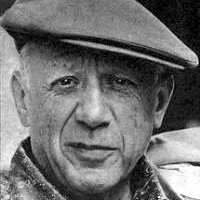 Art experts have found a depiction of a man hidden behind the surface of Pablo Picasso's 1901 masterpiece "The Blue Room," the Associated Press reports.

The five-year study - by scientists and curators from the Phillips Collection, National Gallery of Art, Cornell University and Delaware's Winterthur Museum - uncovered an expressionless bearded man dressed in a jacket resting his head on his hand. But who is it? And why did Picasso paint over him?

No one yet knows.

>> Sign up for the AARP Health Newsletter 

"When he had an idea, you know, he just had to get it down and realize it," curator Susan Behrends Frank told the AP. "He could not afford to acquire new canvases every time he had an idea that he wanted to pursue." Though experts don't believe the original painting to be a portrait, the outline could be Ambroise Vollard, a Parisian art collector who financed Picasso's first exhibition in 1901.

Picasso has a track record of leaving obscure visuals on his canvases during his Blue Period. "The Old Guitarist" (1903-1904) has the outline of a woman, child and animals beneath a depiction of a musician in despair. "Woman Ironing" was also discovered to have a male portrait underneath the visible painting. "The Blue Room" has been a part of the Phillips Collection since 1927.

>> Get travel discounts with your AARP Member Advantages.



Photo: Wikimedia



Also of Interest



See the AARP home page for deals, savings tips, trivia and more