Your Brain On Music, As Explained by Mickey Hart
By Beth Carpenter, September 22, 2012 07:51 PM


He was caring for his grandmother, which was just fine with Grateful Dead drummer Mickey Hart. Except she wasn't speaking.

She had been officially diagnosed with Alzheimer's some time before, and she hadn't spoken in a year. Not one word.

Finally, Mickey pulled out his drum, and played a simple rhythm. One she knew.

She spoke. "Mickey?" She knew his name!

Mickey Hart was fascinated. What was it about the rhythms that had such a power over a deteriorating brain?

Life is about rhythm. We vibrate. Our hearts are pumping blood. - Mickey Hart

Is the Golden Gate Bridge an enormous undetectable harp, playing at frequencies we humans can't hear? As Mickey mused about this possibility on stage, Adam Gazzaley, professor of neuroscience at University of California at San Francisco, began explaining the science behind the rhythms in our brains.

"There are five simultaneous rhythms in the brain," Gazzaley explained. "If they accelerate too much, that's what a seizure is. The rhythms of your brain are a factor in perception, decision making, memory, attention and language. They tend to try to synchronize, like kids on a swing. They're connected to many diagnoses,the most obvious being Parkinson's or tinnitus, where you hear a ringing in your ear. But you probably wouldn't think of depression or dyslexia, both of which are affected by the brain's rhythms."

"These findings... imply that early age of musical acquisition, sustained and maintained during advanced age, may enhance cognitive functions and buffer age and education influences." - Psychology Science, November 2011 

Could you prove that music directly improves the brain? Gazzaley thinks he's proven so. His Neuromancer musical video games tracked participants' abilities to multitask - a skill that drops more than 30% between age 20 and age 70 - and improved both their abilities to multitask and their memory.

Then again, why trust science when you could see for yourself in this viral YouTube video:




Gazzaley and Hart took show and tell to the next level today by strapping an EEG on Hart as he paced, clutching a drum, and images of the rhythms coursing through his brain were displayed on the giant screens throughout the hall. After the appropriate number of oohs and aahs, Gazzaley explained what was happening, adjusting to show more or fewer rhythms coursing through Mickey's brain. "This is scary," Mickey joked. "I'm trying not to think of my first wife."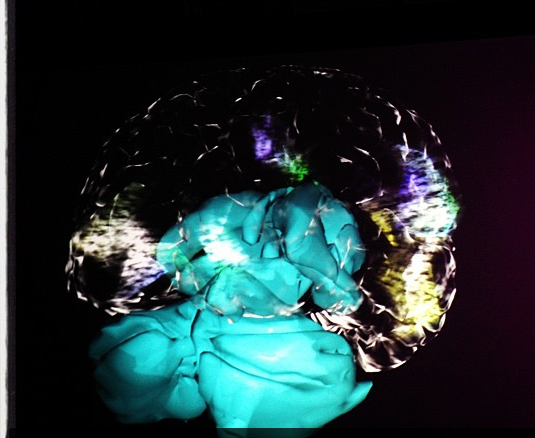 No more time for looking at Mickey's brain, though. It was time to dance. "Follow me!" Mickey said, or something along those lines, and the crowd did, coalescing in the back of the room as an endless parade of various musical instruments and quasi-musical instruments (a cowbell?) came out of nowhere. Suddenly, there was a foot-stomping beat that reverberated louder and louder through the convention hall, as more and more AARP members joined the drum circle. Mickey led, sometimes from a drum set on a platform in the middle, sometimes with a cowbell, sometimes while dancing.




"Vibrations are all around us," Mickey had said earlier, and on Saturday afternoon in Hall D, a few hundred AARP members made it so. What a way to close another great Life@50+ event! See you all next year in Vegas and Atlanta.

You can follow Professor Adam Gazzaley on Twitter here, and Mickey Hart is of course on Twitter at @MickeyHart.