How to Rid Your Home of Your Adult Children's Stuff
I blame Star Wars for halting my annual cleaning spree. Confronted in the attic with boxes of 1980s-era toys, from Darth Vader figures to a Millennium Falcon spacecraft, I called my son to tell him I was going to throw them out. Stunned silence. He lives in a small New York City apartment, so he's not able to store the toys — but he couldn't imagine tossing them either.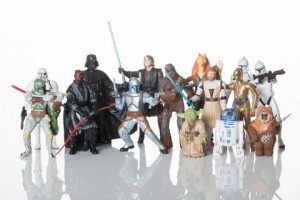 Those Star Wars figures are just one roadblock to my efforts to declutter my home of almost 50 years. I embarked on an annual spring cleaning quest a few years ago, having been motivated by a prior session with my siblings at my mother's house. It was an intense effort, and we heaved decades of her old stuff into a dumpster. So far, none of my three adult children has questioned my decluttering efforts, but we are now getting down to the memorabilia — from high school varsity jackets to an American Girl doll collection — that the kids want to store at the "warehouse of Mom and Dad" until further notice.

Get the latest tips on staying healthy — AARP Health Newsletter »

In search of advice to get rid of the rummage, I picked up the best-seller, The Life-Changing Magic of Tidying Up, by Marie Kondo. The author urges, "Get rid of anything that does not touch your heart." Those Star Wars figures don't touch my heart, but apparently they do my son's. Unfortunately, the book offered no chapter on adult children's belongings.

Then I came across an intriguing article, "All Of My Belongings Fit in One Box: My Journey of Radical Decluttering," by Brianna Wiest, a 20-something millennial. I called Wiest, and she explained her theory that unwanted possessions give off negative energy — so get rid of them. She got started by placing a box in the middle of a room and filling it with only the things that she loves or absolutely needs, such as a frying pan. "While I don't anticipate living this way forever, I found it very powerful to look at that box and see what truly mattered to me," Wiest said. "I saw my favorite books, pictures, clothing and journals. This box is me, and everything else is just distracting me."

It's a great idea that I have tucked away for when I eventually sell my house. However, this method was not going to work unless I could get my children to fill their boxes. And that was not happening anytime soon.

I later found some useful advice from Penelope Lemov, a writer from suburban Washington, D.C., who was preparing for a possible move. She had spent the spring decluttering the five-bedroom house where she and her husband raised two children (who are now 40-somethings). Her children held radically different attitudes toward her efforts. Her son told her to throw out everything and not let the house become a deadweight. Her daughter, a historian, wanted her to save boxes of stuff, from grammar school reports to old books.

Lemov spoke to us last week from her now pristine house and shared her multipronged attack — and her determination to leave a legacy of clean closets. The house is now "lighter, cleaner, neater," and so is she, like at the "end of a successful diet." Her take-your-time approach involved tossing a bag a day over the course of several months, because otherwise, "you end up throwing stuff out that you will later regret."

Her iPhone became her weapon. She took photos of everything from Grandma's china to her son's sports equipment and then text-messaged her kids for on-the-spot decisions. She did decide, however, to keep a few items that received a thumbs-down, such as her husband's Lionel train set.

Get discounts on hotels, airfare, car rentals and more — AARP Member Advantages. »

She recalled that decades ago, her mother-in-law had also ignored instructions to toss the trains. "In her wisdom she did not," Lemov said. "She wrapped them up and delivered them to us, and they were enjoyed for many years by my son and grandson." The point of preserving some items, she said, is that often our adult children are not at the stage of life where they might use or appreciate them. "My grandson is now 12, and he will eventually use those trains with his children. It's a family heirloom, but not to anyone else except our family," she said.

Next spring I'll adopt her decluttering approach and consider keeping some of those Star Wars figures and other toys and family heirlooms so they can one day be handed down, too.

Mary W. Quigley's blog, Mothering21 , tackles parenting of emerging adults and beyond.

Photo: Tracy Hornbrook /iStock

Also of Interest:



See the AARP home page for deals, savings tips, trivia and more.