Millennials Create Their Own Expressions of Religion
At Passover seders and in Christian churches this week, families will gather to observe the religious holidays. While some adult children will join in, many will do so out of a sense of obligation rather than practice. More than one-third of all millennials say they are "religiously unaffiliated" today, the highest percentage ever in Pew Research Center polling.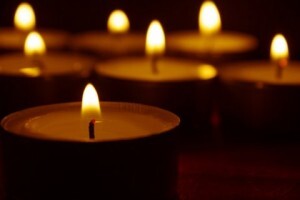 It's not just a rite of passage. Both Gen X and boomers were significantly more religiously affiliated as young adults. So why are millennials so disengaged when it comes to religion? For some answers, we turned to Brie Loskota, managing director at the Center for Religion and Civic Culture at the University of Southern California.

Loskota noted that it's important to distinguish between three different aspects of religion: affiliation, participation and belief. "There's a steep decline in religious affiliation. Young people might self-identify but don't go to services," she said. "But when it comes to prayer and belief in God, those numbers are still fairly high."

In working with millennials and in the center's research, she has found that young adults often "customize" their practices, drawing from several faiths, citing what she terms "mash-ups" such as Jewish-Buddhist and Budeo-Christian.

Another change in approach, she says, is that "there's much more interest in the church out in the world, not inside the walls." Some millennials, for example, have put into practice the commandment of "love thy neighbor" in a program called Laundry Love. Volunteers gather weekly in Laundromats across the country to help the homeless and others with their wash.

For Loskota, Laundry Love and other similar organizations are positive indications that young people seek spiritual fulfillment but in nontraditional ways. "Millennials are forming communities around radical notions of love and service, and I think that that signals good things about the future of religion in America," she said.

Loskota's observations were echoed by the Rev. Paddy Gilger, a Jesuit priest and chaplain at Creighton University in Omaha, Neb. A millennial himself, Gilger believes that young people seek religious expression but "feel as though they have to do so on their own, outside of a tradition, because in their experience most traditions are hypocritical," he said.

How should parents respond to children's nonobservance? Gilger, in a classic Jesuit manner, suggested that parents might first do some personal reflection: "What gift am I being given through my religious practice that I want my children and grandchildren to also get?"

Get discounts on hotels, airfare, car rentals and more — AARP Member Advantages. »

Gilger said that he's observed that if parents can come up with meaningful answers to that question, many millennials are then "open to adding Passover or Mass or whatever back into their own religious-seeker repertoire."

Mary W. Quigley's blog, Mothering21, tackles parenting of emerging adults and beyond.

Photo: Stockfotoart/iStock

Also of Interest:

See the AARP home page for deals, savings tips, trivia and more.