Teaching Our Adult Children About Gratitude
Many moms got exactly the gift they wanted on Mother's Day last weekend: time with the kids. For empty nesters, there's much joy when the house fills up again even for just a few hours. Many of our adult children don't realize how much we value spending time together.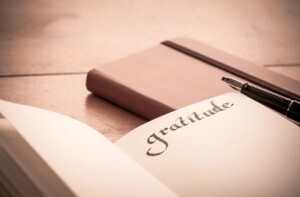 The notion that time together is a perfect gift can seem strange to our millennial children. They have been branded with a reputation as the self-centered and materialistic Generation Me. Indeed when a Pew survey asked different generations to note the traits that made them special, millennials rated technology, music/pop culture and clothes. ( Boomers chose work ethic, respectfulness and values/morals.)

Occasions like Mother's Day can provide "teaching moments." Perhaps when we tell our children how much we enjoyed spending time with them, we can also share some ideas about showing gratitude, a trait that often seems in short supply with millennials.

Sign up for the AARP Leisure Newsletter »

We spoke recently with Jason Marsh, program director for the Greater Good Science Center at UC Berkeley. The Center gathers scientists to explore those intangibles that can lead to happier, healthier lives, from compassion and empathy to forgiveness and gratitude.

Marsh, who has written about connection between gratitude and materialism, notes many studies have found that material gifts don't guarantee happiness. In fact, materialistic people report low levels of gratitude. "People who focus on material things are always on the treadmill striving for the next thing and not appreciating what they have now," he says.

So what can we do to increase our gratitude? Marsh offers a few tips, noting that "gratitude is more than the occasional 'thank you.' Instead, it's a unique way of seeing the world." Here are his suggestions to pass along to our children:

Write down three good, simple things that happen each day. "The whole idea is to attune us to good things that are out in the world, the little pleasures that you take for granted." For examples, Marsh, a millennial himself, noted a good parking space and a great burrito stand nearby.
Write a thank-you letter. This is a twist on the usual note. The letter needs to be directed toward someone never properly thanked. "It should not feel forced or obligated," Marsh says. As our children move through various stages of life, suggest they write a letter to a special coach or a teacher or an internship supervisor. Acknowledging how someone was a positive influence provides happiness for both the letter writer and the recipient.

Get discounts on hotels, airfare, car rentals and more — AARP Member Advantages. »

If adult children sound somewhat skeptical about the link between gratitude and happiness, share an academic study that should resonate with them. In the experiment, a group of people were given Starbucks gift cards and three choices: They could keep it, give it away or use it to take someone out for coffee. The happiest group? Those who treated a friend and enjoyed a break together. The simple lesson: Making someone happy can make us happy, too.

Mary W. Quigley's blog, Mothering21, tackles parenting of emerging adults and beyond.

Photo: Mammamaart/iStock

Also of Interest:

See the AARP home page for deals, savings tips, trivia and more.