The Cost of Perpetual Parenting of Adult Children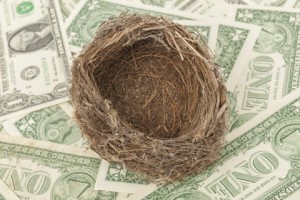 For many boomers, the empty nest seems more like the empty bank account. After college, kids boomerang home for a few months or years, driving up monthly household expenses. Even when they leave, they often return to the "Bank of Mom and Dad" for help with costs from new cars to camp for the grandkids.

All those added outlays are impacting millions of boomers, causing many to delay or modify retirement plans, according to a new study by Hearts & Wallets, a research firm. Parents 65 and older who financially support their kids are much less likely to be retired than those with independent children. The firm estimates that more than one-third of boomers are providing financial support to their children, family members or others.

That study echoes another report, the aptly named, "Family & Retirement: The Elephant in the Room." Almost 90 percent of parents age 50-plus had not factored one-time and/or ongoing financial help for family into their long-term planning, the Merrill Lynch study found. And 70 percent of children age 25-plus had not discussed retirement plans with their parents. As a result, many parents end up sacrificing their retirement for family in what the study called "perpetual parenthood."

So what should parents consider when adult children ask for help? To look at this touchy issue from both perspectives, we talked with Brian Sliwinski, a financial adviser and retirement planner who counsels millennial and boomer clients. Sliwinski (a millennial himself) often handles the "unintended consequences" of the "Bank of Mom and Dad" at Merrill Lynch Global Wealth Management in New York. Parents are most often asked for major financial help, he observes, for three reasons:



Graduate school. In the wake of the 2008 recession, many young people look to advanced degrees for a career change or boost. Tuition alone, not including living expenses, begins at $30,000 and can go up to well over $100,000. Many millennials are already carrying college debt, and government loans charge 7 percent interest. They turn to parents for either outright gifts or to access their line of credit with interest rates as low as 3 percent.
Down payments for first home. Because of that college debt, averaging $28,400, and low wages, qualifying for a mortgage and coming up with the down payment can be out of reach for many millennials without their parents' help.
Wedding costs. Millennials are getting married later, so perhaps that's the reason they like to throw a big party. The average cost of a wedding is about $30,000 and can go much higher in cities, an amount for which neither parents nor children budgeted. That's just the wedding, not all the related expenses from dress to postparty breakfast.


These major outlays don't include the drip-drip-drip of daily expenses when an adult child lives at home or for the occasional handout to a supposedly independent child for lifestyle luxuries such as vacations or clothes. These costs also impact retirement savings.

Get discounts on hotels, airfare, car rentals and more — AARP Member Advantages. »

So how can parents help their adult children while not jeopardizing their retirement plans? In terms of financial strategies, Sliwinski suggests that parents avoid tapping their retirement funds. Doing so not only depletes the nest egg but can also carry tax consequences. Parents who want to help should leverage borrowing power in a home equity line, a cash-out refinance or lines of credit attached to investment assets, he says, and assign these loans to their children. Of course, consulting a financial or tax adviser is important.

He also urges parents to sit down with kids for a financial heart-to-heart right after college graduation, if not sooner. That often difficult talk will help give the offspring realistic expectations of what Mom and Dad can and cannot do. "Everyone wants the best for their children; the difficulty is striking the right balance," Sliwinski says. "That talk allows for young adults to assume more responsibility for themselves and for parents to outline some of their goals."

Mary W. Quigley's blog, Mothering21, tackles parenting of emerging adults and beyond.

Photo: Raywoo/iStock

Also of Interest:

See the AARP home page for deals, savings tips, trivia and more.