Over 120,000 Americans Sign Petitions on Social Security
By John Hishta , March 01, 2016 04:18 PM
Taking a stand on Social Security is a true test of presidential leadership. Voters have told us and the presidential candidates they want Social Security to be a top priority for Congress and the next administration.
That's why tomorrow morning AARP volunteers will deliver more than 120,000 petitions signed by Americans to CNN and Fox News urging the networks and other media outlets "to give Social Security the attention it deserves." AARP's Take a Stand accountability effort has gotten presidential candidates to pay attention to the issue as we move ahead in the primary season.
Take a Stand. Get the latest information about who has a plan for Social Security »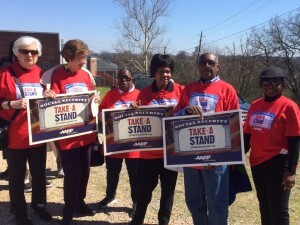 The petitions are being delivered just before the next debates for the presidential election for Republicans this Thursday, March 3, on Fox News, and for Democrats, Sunday, March 6, on CNN.
Below is the full text of AARP's petition, which can be signed by Americans of all ages here:
Enough is Enough. We need answers on Social Security!
Soon, the presidential candidates will take the stage for their next debates. Enough with the nonsense. Let's make sure that this time, they are asked the tough questions on Social Security.

Sign our petition today, and tell CNN, Fox News and the other networks hosting debates to ask the candidates about their plans!
If the next president doesn't tackle Social Security head-on, benefits could be cut by up to 25 percent in less than 20 years. Yet in debate after debate, CNN, Fox News and the other major TV networks avoid asking the presidential candidates where they stand. Or if they do ask, they let the candidates get away with sound bites instead of specifics.
Sign our petition. Tell the TV debate hosts to ask about the candidates' Social Security plans!
Anyone who wants to be president should have a plan to keep Social Security strong. And the networks that host the presidential debates have a responsibility to ask about it — and get real answers.
I urge CNN, Fox News and the other networks to give Social Security the attention it deserves.
Also of Interest


See the AARP home page for deals, savings tips, trivia and more.