AARP Debuts RealPad Tablet
By Rick Levinson, September 4, 2014 12:07 PM
AARP debuted its first-ever consumer product at the Ideas@50+ conference in San Diego last month.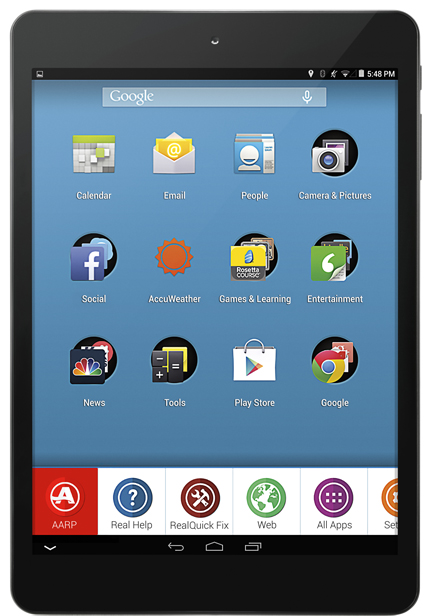 Called RealPad, it's bigger than a smartphone yet smaller than a laptop computer. The tablet was designed with tech-shy people in mind, AARP says, making it easy for them to keep in touch with family and friends — including their grandkids, for whom the art of letter writing is often a lost cause.

Helping people navigate the digital age is important to AARP, says CEO Jo Ann Jenkins: "Technology helps people stay connected and avoid isolation."

RealPad "fills an unmet need in the technology marketplace," Jenkins says. AARP estimates there are more than 35 million people over the age of 50 today who are online but not using tablets because they find the technology confusing, intimidating or too costly.

"Our members have frequently said that the complexity, frustration and headaches of using technology just aren't worth the trouble," Jenkins said in a statement. "RealPad is our answer" to address those challenges, she said.




AARP's device is powered by chipmaker Intel and uses the Android operating system. Among the tablet's many features are free 24/7 customer service support with a live expert, pre-loaded how-to videos and a free one-year membership to AARP, the nation's largest group advocating for older Americans. The device has a 7.85-inch screen, a 2.0 megapixel front-facing and 5.0 megapixel rear-facing cameras and 16GB of memory. The retail price is $189.

>> Get discounts on electronics with your AARP Member Advantages.

To take full advantage of RealPad's capabilities, you'll need a wireless (Wi-Fi) connection to access the Web and other online features. You'll also need a home router. If you don't have wireless at home, many public places (libraries, coffee shops and others) often offer free Wi-Fi. An exclusive feature of RealPad is the RealQuickFix button, which monitors the tablet's performance and will let you diagnose and fix problems on the fly.

When you're not connected you can still play games, read downloaded e-books (including those from AARP), watch stored videos and do other activities on your RealPad.

Preorders for RealPad can be placed at www.aarprealpad.org. The tablets are available at Walmart stores nationwide.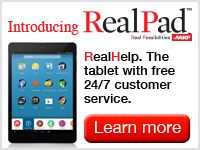 Also of Interest



See the AARP home page for deals, savings tips, trivia and more