AARP Expands Reach to Close Tech Gap Among Older Adults
By Larry Gannon, August 5, 2015 01:26 PM
It seems unbelievable that in 2015 there are so many Americans who don't use the Internet. A recent Washington Post article describes why this is the case. Of the next six adults you meet, chances are one of them has never sent an email. By the U.S. Census Bureau's latest count, 15 percent of U.S. adults, or about 37 million people, don't use the Web.

For the most part, they are poorer, older and undereducated, according to the Pew Research Center's latest figures.

As the rest of us use the Internet to look for work, connect with friends and get the latest news and entertainment, it has become a national priority to encourage the disconnected to hop online.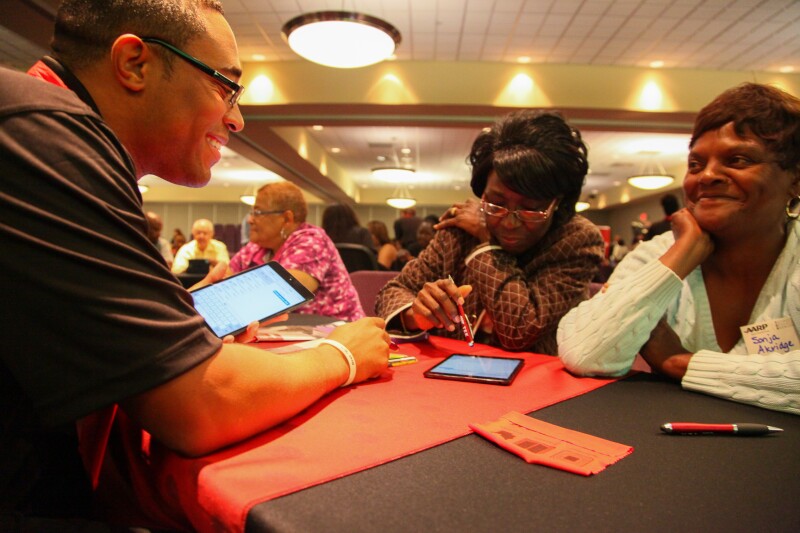 As part of AARP's social mission, we are committed to increasing digital literacy among people age 50 and older. I am fortunate to be able to work on the AARP TEK team, which offers free hands-on mobile technology workshops around the country. I have seen many people come to our workshops afraid of technology and distrustful of the value of using smartphones or tablets. But these folks emerge from the AARP TEK workshops empowered and wanting to learn more. It's very cool and personally rewarding for me.

With generous support and collaboration from AT&T and Consumer Cellular, AARP will be able to facilitate more of these workshops and help fulfill our social mission.

>> Newsletter: Get the latest on AARP advocay programs affecting you

AARP TEK started holding free mobile technology workshops in five markets. With the help from AT&T and Consumer Cellular we will be in 30 markets, and AARP should come a little closer to closing the technology gap among people age 50-plus.

If you would like to learn more about AARP TEK, click here or email me, Larry Gannon, at lgannon@aarp.org.

Photo: AARP

Also of Interest

See the AARP home page for deals, savings tips, trivia and more.