App Of The Week: Paper Piles Be Gone
Do you read articles on the Internet and want to clip them so you can review them in more depth later?

Are you researching a new topic on the web and want to save that information without printing it?

Do you like to have your files accessible to you when you're on the move?

Then you're ready for the app called Evernote.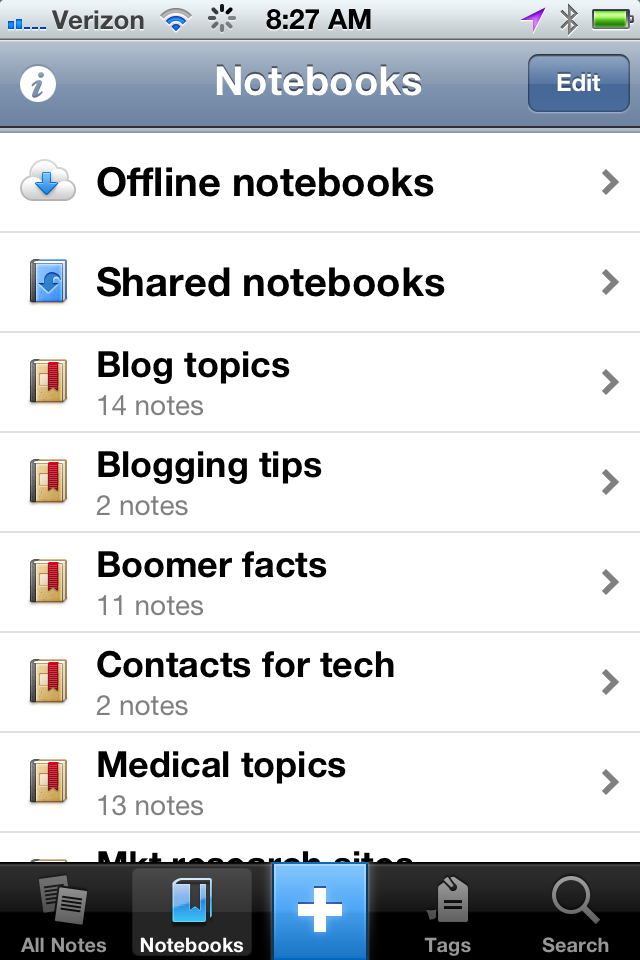 Evernote allows you to save your ideas and to save things you read on the web, photos, pdfs and drawings. And it's accessible everywhere-on any computer, on your phone and on your tablet. So you can carry your files everywhere. Think about it...all of those drawers full of files, on your smartphone.

Like many baby boomers, I'm learning new skills and hobbies. But like nearly everyone else in our age group, I can't remember all of the wonderful information I gather on the Internet.

When I first started on my encore career adventure, I was printing all of the articles I wanted to save for reference or to read later. Soon my desk was cluttered with stacks of paper, and my file drawer busting at the gills.

I had my travel folder, business issues folders and sub folders, house repair folder, information I wanted to discuss with my husband folder, information I wanted to discuss with my son folder, information I wanted to discuss with my mom folder. You get the idea. I had a folder for everything.

But one day, I was at a coffee shop and wanted to share some exciting travel information with my friend, but the file was at home. A man at a nearby table heard me bumming out about the fact I didn't have my stuff and he told me about Evernote.

"It's so great," he said. "You can have everything with you, just file it on Evernote and have it on your mobile phone."

So I tried it. I was prepared not to like it. After all, I'm a writer, I like paper. It's how I grew up. I always prided myself on having great files as well. But not to be a laggard-I downloaded the app. I listened to the video explaining how great it was, and decided to take the plunge.

Admittedly, it took a while to get used to. But now I love it. The app has a little icon that is an elephant's trunk that is located in my toolbar. I think the tool is most useful when working on my computer or iPad. For example:

When I see an article I like on the web, I just click on the "trunk" as it's called and it clips the story.
I can set up personalized notebooks for every subject matter (similar to file folders)
When I clip an article I can file it in a specific notebook.
I can write "ink notes" which are notes like I would write on paper and file them.
I can record an audio note, and a web cam note.
I can add "tags" to my notes for quick reference. For example, I have a recipe file. I tag my recipe by the name of the main ingredient. So when I look for a chicken recipe I write the word "chicken" in the tag line and all my recipes appear with chicken.
Even though I think Evernote is easier to use on the computer than on a smartphone-having the files with me is a huge positive.

When I'm on my smartphone and see something I want to add to a file, I can snap a photo of it and add it to a file.
I can add notes to be filed later, but I find it a little difficult to type on a smartphone, but still doable.
I can use the audio function and dictate the note.
As I type this blog I look around my desk and still see files, loose papers and a notebook. I still struggle keeping my finger off of the print button. But I'm learning and adopting. And my Evernote file cabinet is growing, so I'm making progress.

Do you have an app you love? Share it with us in the comments section.