Karma from an App? That's Right.
About a month ago, I was having dinner with a friend and prodding him about his favorite mobile apps. After a few minutes of talking about some that he liked the most, he suggested an app developed by kids from our neighborhood.

"You remember Lee Linden," he said. "He went to high school with our kids. He played soccer with your son."

"Oh right," I responded, recalling his Dad cheering beside me in the stands.

Excitedly, my friend began to describe an app that Linden and partner Ben Lewis developed. It allows users to send gifts to others, and then alerts the recipients of their new gift by either email or text message.

"It's really cool," my 58-year-old doctor buddy said. "You pick a gift, pick a recipient, and select the person's email address from your contact list and the app does the rest. I use it all the time."

It's called Karma.

It should have been called "good Karma," because that's what it brought Linden and Lewis, the boys from the neighborhood. A day after Facebook went public, they sold Karma to Mark Zuckerberg's social networking giant.

Linden calls Karma "gifting in the moment."

"Ben and I founded Karma because of a personal need: we both live far from home and wanted a more meaningful way to remember our friends and families' most important life moments. We built Karma to say: "thank you", "just thinking of you", "best of luck", or "congratulations", in the moment, in the moment when we're thinking of our loved ones," Linden told me.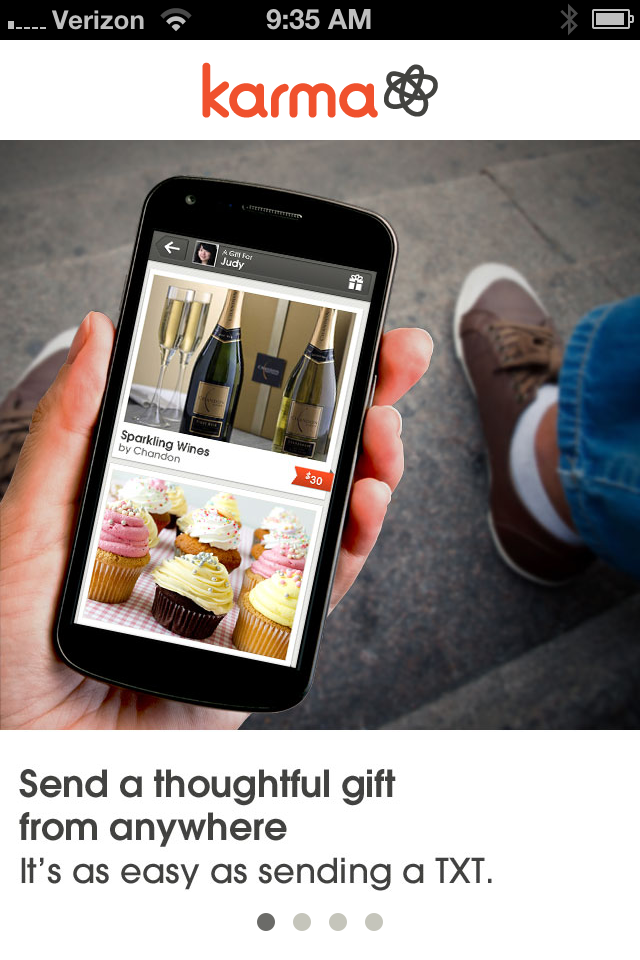 Karma is free and can be downloaded through the Facebook app store, or directly onto your iPhone or Android smartphone. However, recipients do not need the app; they can receive their gifts via any phone or on their own computer.

It's easy to use and it's instant.

When you first open the app a screen appears that says it's easy to use. If you're a little impatient like me, you wonder - how come I can't figure out what's going on? Just tap the page and you are on your way.
The next few screens explain how it works. Then you get to the sign-in page. It gives you the option to "Connect through Facebook" or to skip that phase.

If you connect through Facebook, it shows all of your FB friends' birthdays and anniversaries and makes suggestions of gifts to send them. For instance, "Robin needs a pick-me-up, here are some gift suggestions." I personally found that annoying since I really don't want all of my FB "friends" on my gift list. So I opted to "skip" that phase and sign in with my email address.

Using Karma without a Facebook connection is just as easy.

Select "Start a New Gift".
Select a Recipient (it then says Karma will upload your address book to make it simpler next time, promising not to share your addresses). At first I was skeptical, but I tapped the ok button, figuring what's the big deal if my addresses are loaded into the app.
Ok, now on to the gift selection. Gifts range in price from $11 to just over $100. There's a sliding dollar amount bar, so you can narrow your selections by price range as well.
The gift categories include:

New, Featured, Foodie, Host, Quirky, Geek, Romantic, Eco-friendly, Trendsetter and Baby.
Today, my gift to my Mom is "Build a Chocolate Bar," for $12 from the "Featured section." When my Mom receives the gift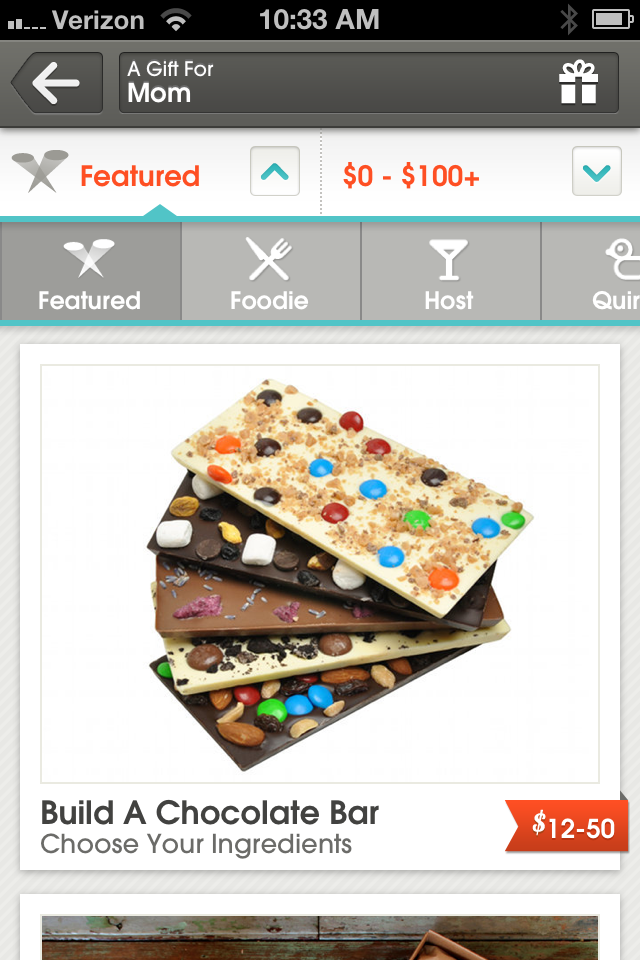 notice, she can build her own bar of chocolate, starting with selecting Belgian chocolate in either milk or white chocolate as the base, and add up to five toppings.

I press "Add this Gift "and move on to selecting a card. After completing the card, I'm asked for the delivery details where I can pick "TXT Message or Email", and the date I want the gift delivered. (This is where the address book comes in handy, because I can select a phone number for a text. However, you can enter addresses manually as well).
The next screen shows the $4.95 shipping charge added and my total is $16.95 for the personalized chocolate bar. Then I press the red button that says "Send Gift (We'll ask for your payment info later)." I press send and enter my credit card information on the next screen.
I don't have to worry about knowing the recipient's shipping address (although not an issue with my Mom), because once the gift notice arrives, the recipient notifies Karma of the shipping address.
The recipient receives the gift notice, along with the card I previously selected, and has the option of keeping the gift, selecting a different gift, or donating the money to a charity.
I must admit, I had a lot of fun selecting my gift. The gifts were so unusual that it made the shopping experience just plain delightful. I would love this app even if Lee hadn't played soccer with my son. Karma is a keeper on my smartphone.

Do you have a favorite app you'd like to share? Please leave it in the Comments Section.