These Web-Based Medical Apps Make House Calls
By Suzie Mitchell , December 20, 2013 03:04 PM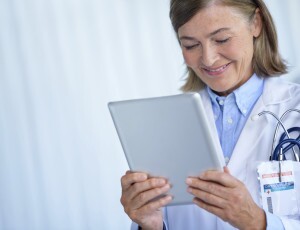 Think you might have bronchitis, a sinus infection, or other non-life threatening illness and can't wait for an appointment with your regular doctor? Not sure if you should go to the ER? Have travel plans and worried if you should fly? Then these online medical-care sites and mobile apps might be your answer.
The sites help patients and doctors converse through smartphones, tablets and computers. In fact, the U.S. telehealth patient population is expected to grow six-fold to 1.3 million people by 2017 from 227,400 in 2012.
These websites and apps have doctors or nurses available 24/7 and are fee based. They range from as low as $3.99 for a call to a registered nurse, to $49 for a 10-minute video conference call with a physician of your choice. These sites both say that patient information is secure.
"Show Us Your Modern Family" Photo Contest. Upload your photo for a chance to be photographed in AARP The Magazine. See official rules.
If you want to video conference with a doctor:
What is it? This website and free mobile app for Android, iOS phones and tablets offers real, live on-demand, 10-minute video visits with a physician for $49.
How it works: After registering, users select a physician who is U.S. trained, board certified, licensed, credentialed, and typically has been practicing 10 years to 15 years. Most are primary care physicians, but some specialists are available. All of the physician's backgrounds are listed below their photos and if they're available immediately a green video button appears before their name. If warranted, doctors send prescriptions directly to your pharmacy. Visits may be covered by some insurance plans. Calls can be extended past the 10-minute mark for an additional fee.
If you want to talk to a nurse:
What is it? This is a free mobile app available for iOS or Android phones and tablets.
How it works: Users open the app, pay $3.99 through their iTunes or Google Play store account and are connected to a live registered nurse. They pledge to connect you within 30 seconds. If necessary the nurse may escalate your call to a board certified doctor for an additional cost (the price isn't stated on the website). Doctors are licensed to write prescriptions. This service is available in English and Spanish.
Both sites explain that these doctors should not be consulted for emergencies. The most common issues addressed in online medical connections are upper respiratory issues, infections and complaints of abdominal pain, fever and diarrhea.
>> Get discounts on health products and services with your AARP Member Advantages.
Also of Interest

See the AARP home page for deals, savings tips, trivia and more