There's a Good Reason April in Paris Spells Romance
By Becky Gillan, January 21, 2015 12:12 PM
As we just start to hit the depths of winter in most parts of the United States, I long for spring. I am sure many of you have heard that the best time to go to Paris is in April. The recent AARP Romantic Getaways Survey shows springtime (35 percent) is the most anticipated season for romantic travel, and 30 percent of those romancers want to go to Europe, specifically France (13 percent). The top two activities romantic travelers engage in are dining out and sightseeing, and it's hard to beat Paris if you are a foodie and like strolling along the Seine River.

However, among those 45 and older who have traveled in the past 12 months, only 15 percent have taken a romantic getaway and the majority (87 percent) are married. Even if you include romantic dreamers (i.e., those who want to take a romantic vacation but haven't), only 20 percent of adults 45-plus could be considered the total romantic travel audience. Since more than 20 percent of the travel audience is single, including me, I would say this definition of romantic travelers is too strict.

When I went to France last summer and Italy a few years ago, while I was with my niece, I surely would not have turned down any "knight in shining armor" had he crossed my path. What about the 2003 movie Under the Tuscan Sun — where Diane Lane buys a villa in Tuscany to change her life and then finds the love of her life — by accident? A simple and perhaps silly plot, but I loved every romantic travel moment. And travel to Tuscany has soared to this day.

Most of the romantic getaways travelers plan are in the U.S. (76 percent) and are a weekend or extended weekend (61 percent). Our study shows that "other commitments" (60 percent) and "cost" (46 percent) are the primary barriers to taking romantic getaways. The romantic dreamers have it right when they yearn for an international trip for a week or longer. Eighty percent of actual travelers said setting the mood is about "quality time together" and "Simply being alone with each other" (a direct quote). I want to meet the consumer who said that.

>> Get travel discounts with your AARP Member Advantages.

On a final note: Romantic getaways are rarely a surprise (7 percent). Work and children are important and have to be considered, but I will confide that one of the best vacations I ever had was when my former husband and I agreed to go away in the bitter cold of winter for a week and he said to just pack summer clothes. Only when we got to JFK Airport did I find out where we were headed — to a small island in the Caribbean with our own beach named Macaroni. I have a photo of that beach on my desk to this very day.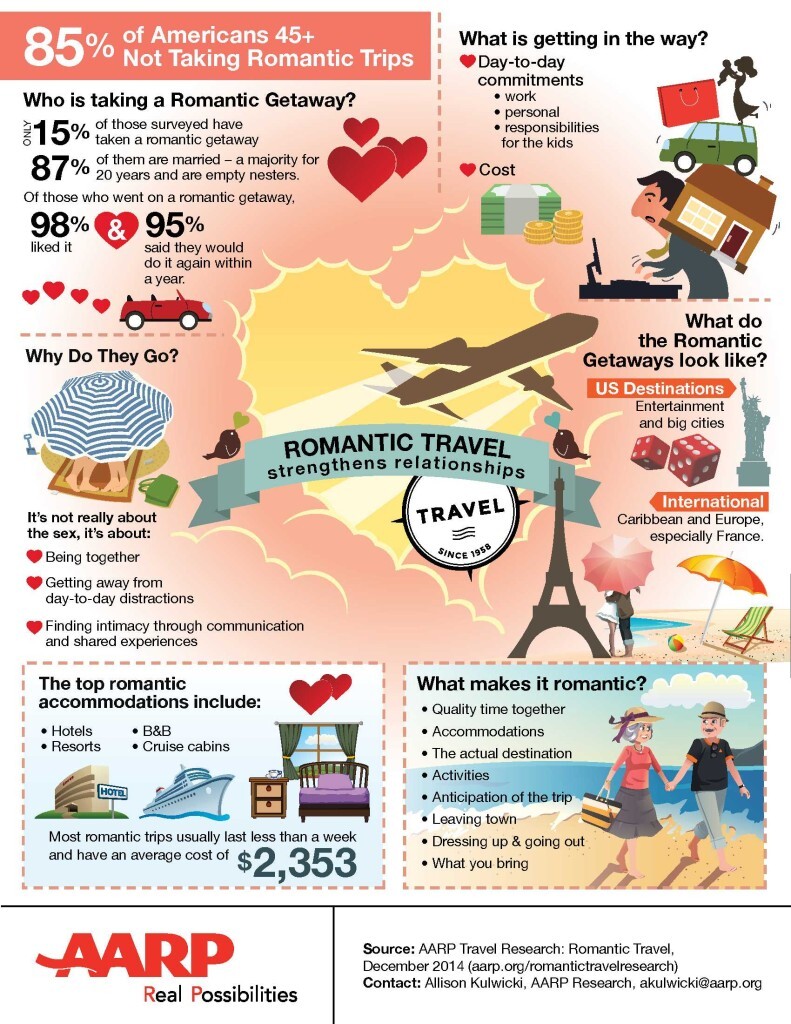 For travel inspiration, planning, and more, visit AARP Travel.

More from AARP Research:

AARP Romantic Getaways Study

AARP 2015 Boomer Travel Trends Study

AARP Solo Travel Study



Becky Gillan is the senior vice president of AARP Research and is focused on fostering understanding of the interests and concerns of people age 50-plus and their families. Before coming to AARP, she served as the vice president of Global Market Research & Guest Satisfaction for Starwood Hotels & Resorts. In her spare time, she likes visiting her niece in Ohio, gardening and collecting American art and antiques.

Also of Interest



See the AARP home page for deals, savings tips, trivia and more.