Meet Jenny V. Jensen of AARP's Georgia State Office
By Gil Asakawa, November 6, 2017 09:41 AM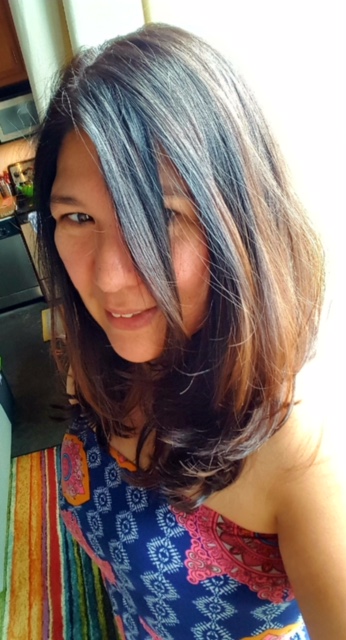 Jenny Jensen is a child of the Vietnam War — or at least, end of the war. She was born in April of 1975 in Bangkok, Thailand, while her father was in Saigon "when the city went to hell in a handbasket."

"I am what is called a third culture kid," she says. "My father worked for the State Department, which is why he was in Southeast Asia."

When her family moved to the U.S., she became an American citizen, but she continued to move all over the world. Her family was back in Thailand in the late 1980s and early '90s. "Most of the American kids hung out in the red light district," she recalls.

Jensen's mother is Thai Chinese, whose grandparents migrated from China. Her great grandfather passed away at the age of 108 in 1987 when she was 13, so she grew up understanding her cultural roots. When she comments that her aunt sometimes slips into Mandarin when she's on the phone, Jensen admits she hasn't kept up her language skills. "Oh no, no, no, I don't speak Chinese. It's very easy to do, if you don't use the language you lose it."

She's spent the past few years in the American South, where one might have even less of a reason to speak Mandarin. She was in Raleigh, N.C., and then last year she moved to Atlanta to take the role as Sr. Program Assistant for AARP's Georgia State Office. She describes her job as being a "Jill of all trades, a little bit of everything."

She helps manage the state office's volunteers, including the volunteer portals for the Georgia's 40 active chapters. "For some chapters, it's like a social group," she says, but a social group that focuses on AARP's issues for 50-plus Georgians.

One aspect of living and working in the South that she's still getting used to is the accent ... coming from Asians. "The Southern drawl, it is bizarre. You've got someone who is very Asian looking and yet he has a twang," she adds with a chuckle.

There are more Asians in the South than you might expect, though. Maybe speaking Mandarin could be helpful after all.

"There is a very large pop of Asian-Americans. It was really nice to discover that," she says. "A very large Chinese population — in fact, there is a dragon boat festival here in Lake Lanier. Also, very large Laotian and Thai population in southern Atlanta, Vietnamese. Little bit of everybody here. Buford Highway is a road that has every ethnic restaurant and grocery store you can imagine. It's a really cool place to be Asian-American."

Jensen boasts of two Asian-American and Pacific Islander (AAPI) volunteers who she works with in the Driver Safety classes, a Korean a South Asian who is the lead volunteer for Driver Safety in the state.

Being biracial sets her apart from even other AAPIs, because of her appearance. Biracial Asians are familiar with the quizzical looks they get from people. "I still deal with that, even at the ripe old age of 42," she admits. "People think it's something they can just walk up and ask you.

"A photographer at an event asked where I was from. I said I was from Raleigh, N.C. He said, 'No, where are you really from?'" After she explained her ethnic heritage, she laughs, "He said, 'Oh, you look Hispanic.'

"I find it very odd. Maybe this is how people are in the states. Quick to assume, and assign you an identity they're familiar with."

She takes it all in stride, though. She's been a walking example of diversity from the moment of her birth, after all.