10 Things You Didn't Know About Sarah Palin
By Patrick Kiger, February 11, 2014 12:13 AM
Since she burst onto the national scene as a vice presidential candidate in 2008, former Alaska governor, political commentator, bestselling author, social media maven and reality show host Sarah Palin has remained in the spotlight.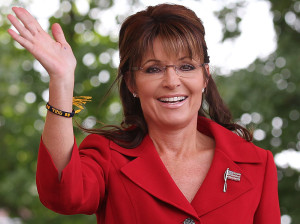 Here are some facts that you might not know about the outspoken conservative politician-turned-media personality.



Though one of Alaska's most famous residents, Palin was born in Sandpoint, Idaho, on the same day in 1964 that the Beatles gave their first live U.S. concert in Washington, DC. She moved to Skagway, Alaska, with her parents when she was three months old.


>> Sign up for the AARP Money newsletter



According to Palin biographer Lorenzo Benet, her father, Charles R. "Chuck" Heath, played running back on his high school football team in Idaho, where future Green Bay Packers star Jerry Kramer blocked for him. Kramer was a big supporter of Palin during her vice presidential run.
When Palin was growing up in Alaska, her parents limited her TV watching by keeping the set in a room that was heated only by a wood stove, which she and her three siblings had to load to stay warm. As a result, "we never watched much TV," she once told an interviewer.
Her first job as a teenager was at Ferina's ice cream store in Wasilla. She also waited tables at a bar in the fishing village of Dillingham. As she told Esquire magazine in 2009: "

Serving people, you learn patience. When someone's mad at you 'cause you're not serving them in the manner that they want to be served, you've gotta be tempered and graceful."
She wore number 22 when she played point guard for the Wasilla Warriors, who won the Alaska state basketball championship in 1982.
At age 24, she eloped with her boyfriend, Todd Palin, and got married at the county courthouse in Palmer, according to a 2008 Anchorage Daily News profile. By Palin's account, the couple eloped because they didn't want their parents to have to foot the bill for their wedding. For witnesses, they enlisted two residents of an assisted living facility across the street.


>> Get travel discounts with your AARP Member Advantages.



At age 20, she won the Wasilla beauty pageant and was named Miss Congeniality, according to a 2008 Time profile.
Palin told Esquire that she wanted to be an ESPN sportscaster "until I learned that I'd have to move to Bristol, Conn. It was too far away." Instead, after graduating with a journalism degree from the University of Idaho in 1987, she worked as a sportscaster for two TV stations in Anchorage, and for a newspaper, the Mat-Su Valley Frontiersman.
Palin told

Esquire

in 2009 that wearing fleece and drinking skinny white-chocolate mochas were her favorite ways to stay warm on cold days.
Today, February 11th, is Sarah Palin's 50th Birthday - meaning she is now eligible for membership in AARP.

Photo: Justin Sullivan/Getty Images



Also of Interest



See the AARP home page for deals, savings tips, trivia and more