Medicare: Time for a Reality Check?
By Tamara Lytle, September 19, 2013 04:41 PM
The public's view of Medicare doesn't match reality, according to an analysis of six polls by the New England Journal of Medicine, which says that the "wide gap in beliefs between experts on the financial state of Medicare and the public at large" could end up affecting the ongoing battle over the federal budget.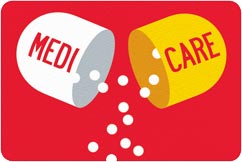 Here are some of the chief disconnects:

Although Medicare spending has been rising at slower rates during the past five years, 62 percent of Americans think just the opposite.
Although most people believe they put more into Medicare through payroll taxes than they get back in benefits, beneficiaries actually pay only about $1 for every $3 in benefits they receive.
Although Medicare spending is the third-largest item in the federal budget, 36 percent of all Americans believe it's not one of the largest items in the budget, and another 11 percent say they're not sure or decline to answer.
Only 31 percent of Americans identify Medicare as a "major cause" of the federal budget deficit.


How to close the perception gap? The authors of the NEJM article call for "a nonpartisan, broad-based public education campaign launched focusing on how Medicare works financially" and suggest that "discussions of the financial sustainability of Medicare ... be separated from public debates over reducing budget deficits or enacting tax cuts."



Also of Interest



See the AARP home page for deals, savings tips, trivia and more