No caigas en la trampa del 'gluten free', podría afectar tu bolsillo
By Sara Justicia, November 20, 2015 10:54 AM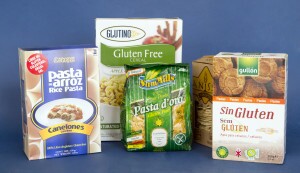 Hace ya varios años hemos visto una tendencia, digamos, un incremento en la discusión relacionada al gluten y sus efectos en la salud. En principio escuchamos de que algunas personas eran intolerables al gluten. Pero, de la noche a la mañana vamos al supermercado y vemos toda una fila de productos como pan, pastas, galletas y otros en cuya etiqueta se señala que son "Gluten Free".

Fotos: Alimentos saludables que pensabas eran dañinos

Pero para seguir hablando de esto debemos primero definir que el gluten es una proteína encontrada en el trigo, en la cebada y en el centeno. Muchas personas han desarrollado la enfermedad de celíaca que básicamente se traduce en intolerancia al gluten. A estas personas el gluten le provoca inflamación en los intestinos. Ellos no deben comer panes o pizzas, a menos que estos estén elaborados con harinas que no contengan gluten.

Recuerdo hace varios años atrás, a mi gran amiga Ana María, el doctor le refirió una dieta sin gluten. El proceso fue difícil, ella buscaba en diversos lugares qué podía comer. Pero el tiempo ha pasado y las alternativas son muchas.

Suscríbete a nuestro boletín

El problema es que ya no se trata de personas como Ana María que tienen dicha condición los que requieren de la dieta sin gluten. En tiempos recientes se ha creado toda esta idea generalizada de que no comer gluten es lo más saludable. De esta manera, personas saludables han recurrido a estos productos que no lo contienen.

Lo interesante es que un estudio reciente ha demostrado que los productos sin gluten no necesariamente son nutricionalmente superiores a los que tienen gluten, pero sí más caros. El estudio comparó los nutrientes en productos con y sin gluten, disponibles en supermercados en Austria.

Entre los hallazgos significativos se determinó que los productos sin gluten tenían menos zinc y potasio en comparación a los productos con gluten. No obstante, los "gluten free" sí tenían menos colesterol y sal. Los investigadores examinaron un universo amplio de productos y establecieron que si la persona no sufre de intolerancia al gluten, no debe adquirir dichos productos porque les resultará en un golpe al bolsillo, más que en un beneficio nutricional. El estudio se tituló ¨Gluten-free food database: the nutritional quality and cost of packaged gluten-free foods¨ y fue publicado en la revista especializada PeerJ.

Descuentos en Salud y Bienestar: Ahorros de hasta un 30% en un estilo de vida más sano

Como en otros asuntos de los que he escrito para los blogs de AARP, es importante no caer en el autodiagnóstico. Si nos duele el estómago, si algo nos cae mal o tenemos diarrea, de inmediato no pensar, pues tengo que cambiar mi dieta y optar por productos sin gluten. Es el médico quien mejor puede decirnos qué o qué hacer. Así que no caigas en las garras del mercadeo intensivo y las etiquetas atractivas. Puede ser que lo "gluten free" sea lo mejor para algunas personas, pero no necesariamente para tí.

También te puede interesar:



Página de inicio de AARP

Foto de jamesbenet vía IStock.