What Would You Ask Robin Roberts?
By Meg Grant, April 30, 2015 02:51 PM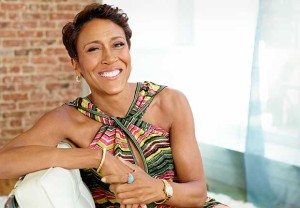 Here's a chance for you to be part of our conversation with the keynote speaker at AARP's Life@50+ National Event in Miami. Robin Roberts, the 54-year-old coanchor of ABC's Good Morning America, is the most trusted person on television, according to recent surveys. She has openly shared both the highs and the lows of her life story with us as she's steadily moved onto ever-widening public stages.

We have watched Roberts on difficult personal journeys, including the deaths of both of her beloved parents, Col. Lawrence E. Roberts and Lucimarian Tolliver; a breast cancer diagnosis; and treatment for a deadly bone marrow disease called myelodysplastic syndrome.

Rediscover what you want to do with your life — Visit AARP Life Reimagined »

Yet there have been huge accomplishments along the way. As an African American woman, she has broken through professionally on many levels, including helping GMA earn four Emmy Awards during her tenure. In 2013, she came out as gay and joyfully introduced the world to her longtime partner, Amber Laign. She shared many of her intimate moments in her 2014 memoir, Everybody's Got Something, in which she proved that she is, above all, a survivor.

Roberts will be appearing live at AARP's Life@50+ National Event on Friday, May 15, at 9:30 a.m. She will be interviewed at the Miami Beach Convention Center by AARP The Magazine Editor in Chief Bob Love — who invites you to join in his discussion.

What would you like to ask this courageous woman? Is there more you'd like to know about her many experiences? Or would you like to seek her advice about your own life path?

Please submit your questions, your name and where you live by visiting the Ask Robin Roberts AARP Community Discussion. Let us know and your questions will be considered.

Photo: Jeff Lipsky

Also of Interest



See the AARP home page for deals, savings tips, trivia and more.