7 Surprising Beauty Musts For Women 50+
Never a dull moment. Every day there's a new beauty app or techie tool to fill a so-called void. Well, there's a difference between availability and need. Do you really need an iPhone app that scans your moles, evaluating and tracking them, or one that alerts your frizz-prone hair to rain or humidity? Do you need a portable antimicrobial pad to germproof your pull-down tray on planes to do makeup before landing? OK, maybe you do, but I don't. Seven of the most beneficial beauty items are way more basic than that. Get 'em!
1. EYE PRIMER. No worries about mushy, smeary, disappearing liners and shadows. Eye base guarantees smoky eyes never turn smudgy and makes the same old eye makeup apply more smoothly, perform better. You know primers exist and have no more excuses at drugstore prices. Try: L'Oreal Paris De-Crease Eye Shadow Base ($7.29, drugstore.com).
2. LAST BIT HELPER. We spend more on de-aging creams and serums than any previous generation, so why not get every last bottom-of-the-jar or -bottle drop? While extension tools for this purpose with scooper tips and flexible necks are a new category, all you really need is a pack of long-stem disposable cotton swabs or a clean, long-handled eye shadow brush reserved for this use. Try: Intrinsics Cotton Applicator Swabs ($13 for 1,000, drugstore.com).
3. TWO CONCEALERS. Stop trying to make one product do double duty. You need a creamy opaque concealer for total coverage of brown spots and a transfer-resistant formula that works for face, chest and back of hands (so worth the splurge here!). Buy a separate moisturizing brightening tint for the eye area. Try: Amazing Cosmetics Amazing Concealer ($42, ulta.com), Benefit Cosmetics Fakeup Concealer ($24, ulta.com).
>> Sign up for the AARP Health Newsletter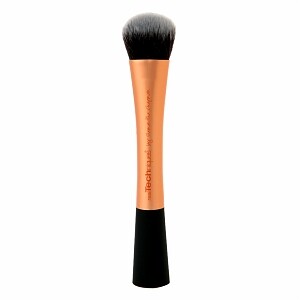 4. A FOUNDATION BRUSH. A foundation brush designed for liquids and creams gives any foundation - even full-coverage foundation - the authentic skinlike look you want. It also blends BB or CC creams better than fingers or sponges. Face makeup becomes undetectable even in areas with big pores (around the nose), deep expression lines, and where skin is loose and saggy (around the eyes and jaw). Try: Real Techniques Expert Face Brush ($8.99, ulta.com).
5. AN EXACT MATCH FOUNDATION. What are you waiting for? Nothing is more aging than makeup that's too dark, too light or off in tone. We all need one real foundation, but eyeballing shades is tough even for pros. Now Sephora and Pantone have created an in-store scanning device that matches your complexion to an edited list of perfect options in a range of brands, textures and prices. You won't go wrong again. Try: your nearest Sephora store at sephora.com.
6. A NO-WAIT BODY SPRAY. We hate having dry spotty legs, a sun-damaged cleavage and back, and crepey arms. We also hate waiting for tacky emollient creams and lotions to dry before slipping on silk, suede, leather, pantyhose or dressy clothes! Grease-free aerosol sprays or dry body oil mists absorb on contact, leaving an invisible coat of moisture that requires no blending. Try: Vaseline Spray & Go Moisturizer ($7.19, drugstore.com), Moroccanoil Dry Body Oil ($38, moroccanoil.com), Philosophy Amazing Grace Satin-Finish Body Oil Mist ($26, ulta.com).
7. A BROW GROOMER. Brow pencils and powders are tricky and require time we don't have. On the other hand, there's no one whose brows need filling and maintenance more than us. They're skimpy, short, weird and wiry thanks to a combo of genes, overplucking in our youth, bad diet and thyroids gone awry. A tinted gel wand keeps coarse hairs in place and tints white or gray hairs so they blend in and never looks overdone or fake. Try: Bobbi Brown Natural Brow Shaper & Hair Touch Up ($22, bobbibrown.com).
Keep up with beauty trends but spend smart!
>> Get entertainment and dining discounts with your AARP Member Advantages.
For more beauty & style tips for women 50 + see my book The Wardrobe Wakeup, Your Guide to Looking Fabulous at Any Age by Lois Joy Johnson ($17.04, amazon.com).

Also of Interest

See the AARP home page for deals, savings tips, trivia and more