Recently I spent an afternoon at the L'Oréal Paris Tech Center on Fifth Avenue in New York, watching a Diane Keaton video and learning about the company's new "home hair color" for women over 50. To my surprise, Keaton — who "came out" as gray last year — looked blonder than ever. As she told the camera, "We can grow old gracefully or gorgeously — I pick both."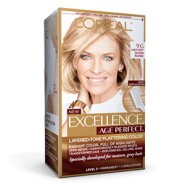 As something of a blondaholic myself, I second that emotion. Yes, this new product mysteriously leaves hair with no demarcation line as roots grow in, and yes, Keaton is a paid spokesmodel for the brand. But listen to what color guru Brad Johns (of the Brad Johns Color Studio at New York's Samuel Shriqui Salon) recently told me about going blond at 50-plus:
Anyone can go blond-er. "Think in terms of softening and brightening," says Johns, "not lightening. If you're a dark brunette, for example, you can make your base a warmer brown, then add caramel and butterscotch highlights around the face. Some women — Julia Roberts, Cindy Crawford — should never go completely blond, but their looks have recently benefited from gold highlights, which soften lines and warm up the skin."
Swallow a sunbeam. "When you go blond," according to Johns, "your skin takes on a glow. Lines, dark circles and brown spots all get de-emphasized. I've seen women embrace their true gray, only to revert to blond for the cosmetic benefits — namely skin brightening and radiance boosting, making sun damage and other signs of age less noticeable." But, like an Hermès bag, it's a commitment, and it requires care. Shampoos or conditioners such as Davines Alchemic Conditioner (left) or John Frieda Sheer Blonde Go Blonder Shampoo can keep the color fresh.
Multitone blonding can fatten up thinning hair. "Blond tints can create the illusion that fine, thin hair is thicker than it really is," Johns says. "When your hair is a blend — of gold, honey and buttery shades, for example — it highlights the contrasts among scalp, hair color and complexion." This combination of multitones makes your hair appear richer and more abundant. (Just think of how a striped sofa looks bigger than one in a uniform color.)
Blond is the bomb. "Women clients who go back to blond after trying gray often tell me they feel more attractive. So if you're dating, job hunting or reinventing your life, and you feel like blond is a 'power color,' why not just go for it? There's authentic, of course, and then there's adventurous."
Get discounts on car rentals, airfare and hotels — AARP Member Advantages. »
Blond hair makes jewelry shine. If you ask me, women with blond hair — or redheads and brunettes with l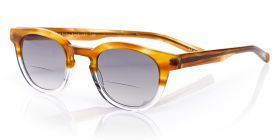 ots of golden highlights — tend to beam in gold jewelry. Other smart choices would be "warm" gems, such as green turquoise, coral, jade, citrine, peridot or amber. And don't rule out less-expensive accessories: Once you "blond up," consider a pair of blond-tortoiseshell sunglasses like Eyebobs Laid Sunreader (right) or some golden aviators like Ray-Bans with mirrored gold lenses. You might also experiment with warmer neutral makeup containing hints of golden shimmer in shadows, bronzers and lipsticks.
For more beauty and style tips for women 50 and up, check out my Makeup Wakeup: Revitalizing Your Look at Any Age.
Photos: loréalparis.com; davines.com; eyebobs.com

Also of Interest

See the AARP home page for deals, savings tips, trivia and more