Fashion Watch: Now, It's All About the Dress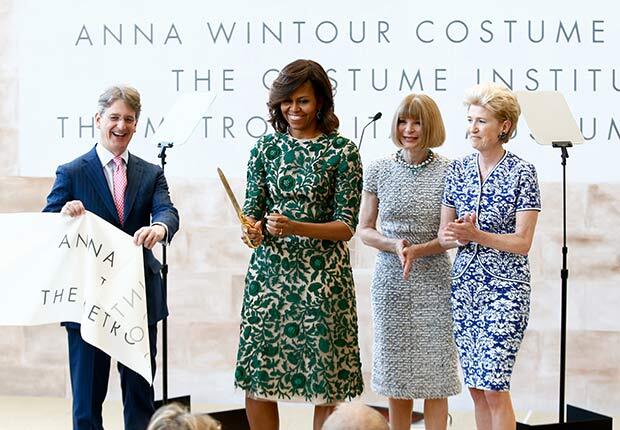 On Monday in New York City, First Lady Michelle Obama cut the ribbon to open the Anna Wintour Costume Center at the Metropolitan Museum of Art.
Both Obama and Wintour wore dresses.
This may not seem like a big deal, but it is: Dresses have almost completely replaced suits as the go-to fashion solution for most work/life situations, even for heads of state and CEOs. (Here's hoping Angela Merkel and Hillary Clinton catch on soon!) Dresses are showing up in Congress and clubs, for meetings and margaritas, at job interviews and weekend hangouts.
>> Sign up for the AARP Leisure Newsletter
And no wonder: A dress is easy, pretty and fun. It simplifies your wardrobe - possibly even your life. So take a cue from the first ladies of politics and fashion, and say goodbye to those power suits from the 1980s and '90s. Instead, update your look with any of these four options:
Shape-flattering sheaths. If you're buff like Mika Brzezinski or Jill Biden or "body-confident" like Wendy Williams, a ladylike tailored sheath is an elegant way to reveal those curves. Sleeveless versions are super stylish if you have Michelle Obama's toned "guns," but with designers finally catching on to our upper-arm phobia, many a sheath now features three-quarter or elbow-length sleeves. Choose a high neckline; a shallow scoop, a bateau or a wide V will expose your collarbones, but no cleavage. Then, to keep the whole look classy, just add a pair of pumps (or, for edgier types, cage booties).
Fitted top, flared skirt. This style is a favorite of Michelle Obama's - and of every woman in the public eye, come to think of it, including Camilla, Duchess of Cornwall; Yahoo President and CEO Marissa Mayer; and Saks Fifth Avenue President Marigay McKee. The fitted top and A-line skirt combine to give you total freedom of movement: You can cross your legs or climb in and out of that (rented!) limo without once flashing your Spanx - or even having to wear them! The extra width at the hem makes the proportions work, even with flats or wedges. Just add a contrasting belt to increase the definition of your waist.
>> Get entertainment and dining discounts with your AARP Member Advantages.
The classic wrap. Also present at the Costume Center opening was Diane von Furstenberg, president of the Council of Fashion Designers of America by day and mother of the wrap dress in her spare time. She'd be the first to tell you that an all-over print keeps the eye moving, while the supple fabric molds to highlight the contours of your outer silhouette. The wrap and V detailing, meanwhile, give every woman a waist. So always keep a classic wrap on hand! You never know when the occasion will demand it, whether it's a cocktails-and-dinner date or just one of those I'm-feeling-fat days.
The casual shift. Downtown dresses may be great fun, but every woman needs a "down time" dress, too. And just in time, making its (quite welcome, if you ask me) comeback is the simple shift dress from the 1960s. Throw one on, add a pair of flip-flops and you're done. I still have a hankering for Lily Pulitzer floral shifts myself, but there are plenty of prints, stripes and minimalist geometric styles to choose from. One big draw: These dresses are tailored with just enough structure for body-friendly support. Add a few flourishes - your favorite straw tote, a floppy sun hat, sexy sunglasses - and you're all set for the weekend. (Leg-shy? Just slip on a pair of cropped leggings.)
Photo: Debby Wong/Corbis
Also of Interest

See the AARP home page for deals, savings tips, trivia and more