Frenchwomen Don't Wear Granny Panties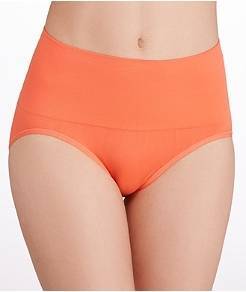 Bloomers are booming—and I'm flipping out.

I'm talking about those "big girl" panties we traded for lower-cut bikini undies way back in junior high school, before The Cult of the Thong began its cheeky brainwashing campaign. Having just returned from Paris, where a lingerie shop seems to nestle next to every patisserie, I can assure you that no grownup Frenchwoman (unless she's a dancer at the Moulin Rouge) would be caught dead in a thong or a V-string. Instead, Frenchwomen wear beautiful lacy briefs, with matching bras.

This full-coverage-panty craze is nothing new. If you ask me, it's an Emperor's New Clothes fashion-industry trick to turn commonsense consumer preferences into cold, hard cash. But of course younger women are fascinated: They've never worn them before! And, like flats and higher-waist jeans (duh!), the hideously named "granny panties" are selling.

Sign up for the AARP Leisure Newsletter »

To us, full panties are basics, so here's a refresher course with a French—er, fresh twist:


Get comfy. A high-waist brief sits anywhere from your real waist to just below the navel; the idea is to minimize lower-belly sag and keep muffin tops tucked in. Look for a modest leg line: It may be ever-so-slightly curved in front, like a 1950s pinup model, or discreetly arced at the sides in a "French cut." Nude and black shades work well with all your bras, but — like a bright lipstick or nail polish — a splash of color makes a nice pop for a change. These samples and examples should give you the right idea: Hanes Women's Smooth Illusions Brief Panties, Warner's No Pinching No Problems Brief or Yummie by Heather Thomson Marjorie Basic Layers Mid-Waist Brief Plus Size.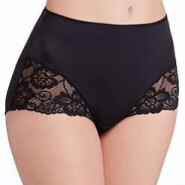 Go for the cling. Look for a second-skin fit that's undetectable under clothes, with full tush coverage — and, of course, that higher rise. Supple, no-bind edges (often laser-cut or stretch-lace) won't pinch, create bulges or chafe at the waist and leg openings. When it comes to fabrics, microfiber and nylon/spandex/elastane blends hug curves and won't show even under knits, jerseys or light fabrics. They keep their shape over time — and through serial washings.

If you think you need extra "jiggle control," choose hybrid panties/shapers: Some of these have built-in power panels for extra low-dose hold, yet they still deliver maximum comfort. A good beginning is Jockey Slimmers Shaping Microfiber Stretch Brief With Lace or Yummie by Heather Thomson Nici Seamlessly Shaped Everyday Shaping Briefie.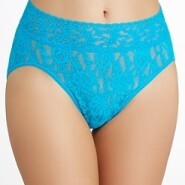 Keep it sexy. Mais bien sûr! If you're a natural-born femme fatale — or simply an active dater — head for panties with stretch-lace details. Then add a matching or black bra. This is the Parisian style equivalent of croissants, macarons and crème brûlée, so indulge yourself! Look for wide, stretch-lace waistbands, and insets at the thighs. Recently I've gotten into Bali Lacy Skamp Brief Panty, Spanx Undie-tectable Lace Hi-Hipster Panty, Hanky Panky Signature Lace French Brief and DKNY Seductive Lights Medium Control Brief.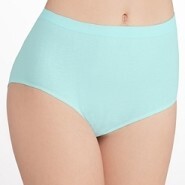 Enjoy the hygiene! My friends are probably a bit weary of hearing me rant about derrière-flossing thongs and their tendency to exacerbate health problems. But if you're prone to urinary-tract infections, hemorrhoids or leakage-while-laughing (and face it, who ain't?), you're going to find that the roomier, breathable shape and wide cotton gusset of high rises are confidence boosters 24/7. Thongs, to be blunt, slide around, making the transfer of common bacteria (such as E. coli) from one nether region to another more likely. And who needs that? Try my fave stretch cotton panties: Warner's No-Pinching No-Problems Hi-Cut Brief, Bali Cool Cotton Skimp Skamp Brief or Jockey Comfies Hi-Rise Brief.

Get discounts on hotels, airfare, car rentals and more — AARP Member Advantages. »

For more beauty and style tips for women 50 and up, scan my Wardrobe Wakeup: Your Guide to Looking Fabulous at Any age.


Photos: barenecessities.com

Also of Interest



See the AARP home page for deals, savings tips, trivia and more