Superfood Kale Fuels Good Health
I've recently discovered something new about myself: I have an addiction to kale (well, at least that's what my husband tells me).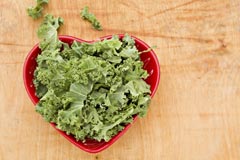 I eat it, drink it, write about it. I've been known to dream about a particularly delicious kale salad that's served at a fab restaurant I go to in Manhattan. I especially love kale lightly sautéed with sliced almonds and organic dried cranberries, with just a drop of olive oil and a pinch of sea salt (see recipe below).

I eat it every day. Sometimes twice a day and often with brown rice. If I'm going to be out of the house or traveling, a few bottles of "green juice" (kale, cukes, parsley, spinach, apple) come with me.

Can one eat too much kale?

No, because it's a superfood. Researchers have identified 45 - count 'em - different healthful flavonoids in kale. Kale is also high in fiber, packed with antioxidants, and rich in vitamins - particularly vitamin K. It helps build better bones, eyes, hearts, immune systems, and is amazing at helping weight loss.

And don't get me started on how much calcium one serving of kale will give you. Calorie for calorie, kale delivers more of that essential nutrient than milk.

AARP's Candy Sagon recently wrote how we're smack in the middle of a "kale craze" and listed all the reasons why everyone should get on the kale bandwagon (and a few who might want to take things a little slow), noting that even the Obama White House has made kale a regular part of its menu. Click here for the full article. Kale just has a lot of good stuff in it. How could anyone eat too much good stuff?

There are so many great ways to prepare and enjoy kale. It can be sautéed, stewed, baked, juiced and eaten raw. You can sneak it into salads when your kids aren't looking, add it to soups and omlettes, and add it to just about any recipe that calls for something leafy and green. It's versatile, available all year long, and relatively inexpensive. Check out my favorite ways to prepare it.

This is my No. 1 go-to kale recipe. The tart sweetness of the cranberries fits perfectly to kale, and the almonds add another dose of calcium. For variety, I sometimes add a bit of lemon juice. Make a big batch so you can have some on hand for several days. And guess what? It tastes just as yummy cold as it does hot.

Sautéed Kale with Cranberries and Almond Slivers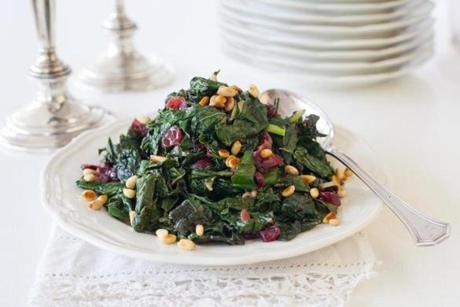 Ingredients:

1 1/2 lbs. kale (I prefer lacinato or "dinosaur" kale), stems and leaves coarsely chopped
2 tablespoons olive oil
1/2 cup vegetable stock or 1/2 cup water
salt and pepper
Dried organic cranberries
Almond slivers
Directions:

Heat olive oil in a large saucepan over medium-high heat
Raise heat to high, add the stock or water and kale and toss to combine
Cover and cook for 5 minutes
Remove cover and continue to cook, stirring until most of the liquid has evaporated (Kale should be bright green and slightly wilted)
Add cranberries and almond slivers
Season with salt and pepper to taste
Serving suggestion: pair it with brown rice for a delicious, healthy, low-fat and low-calorie lunch, or even as a side dish with some chicken or fish.

Here's an incredibly simple go-to kale recipe that even the kids will love:

Kale Chips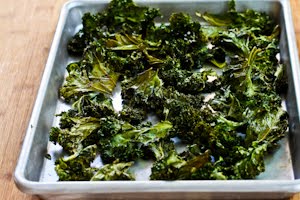 Preheat oven to 350 degrees
Cut kale leaves off the stems, wash well, and put through the salad spinner to dry
Toss leaves gently with olive oil and sea salt
Spread leaves on a large baking dish, single layer
Bake until crispy, turning once midway, around 15 minutes
Kale is so versatile that you can use it in lieu of other greens to make incredible salads. Here's a "recipe" I'm often asked for.
Substitute the greens you would normally add to your salad with kale. Or, mix a few of your favorite dark, leafy greens with kale. I often combine it with baby spinach, arugula, lettuce, and mint, then mix in some dried cherries, feta cheese, or sliced strawberries. Coat it all with a little of this dressing: olive oil combined with freshly squeezed lemon juice and sea salt. Perfect!
What's your favorite kale recipe? Share it with us!
Kale isn't the only great food we should eat to build better bones, by the way. Take a look at this:
  Questions? I want to hear from you! Let me know how you're doing with the exercises. For more tips on living your best life after 50 (or 60, or 70...) check out The Best of Everything After 50: The Experts' Guide to Style, Sex, Health, Money and More and www.bestofeverythingafter50.com. Keep me posted on how you're doing by subscribing to me on Facebook and "tweeting" me on Twitter at @BGrufferman.  Check out the full video series - The Best of Everything - on the AARP YouTube Channel.



Photo credits: bostonglobe.com, healthadvocation.com, localfoods.com

Photo (top right): Istockphoto



Also of Interest

Join AARP: Savings, resources and news for your well-being


See the AARP home page for deals, savings tips, trivia and more