The Takeaway: Americans Borrowing--and Not Repaying--Billions from 401(k)s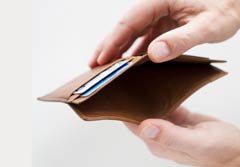 What's a worse financial plan than taking a loan from your retirement savings? Taking a loan from your retirement savings and not paying it back. Yet a growing number of Americans are doing just that, according to a new study from financial services firm Navigant Economics. Defaults on 401(k) loans totaled $37 billion in recent years.

See Also: How to Avoid Sabotaging Your 401(k) Plan >> 

In the 12 months ending this past May, the default rate on 401(k) loans hit 17.4 percent -- down slightly from mid-2010 but nearly double the default rate before the financial crisis.

The penalties for defaulting are steep: Not only are borrowers left with depleted retirement savings, but they also incur taxes on the money they withdraw and a 10 percent penalty fee.

"Of course, participants are not deliberately defaulting," said study co-author Robert Litan, a senior fellow at the Brookings Institution. "They only do so when they have no other options."

Some policymakers want to limit the number or size of 401(k) loans. But while this might reduce the likelihood of default, these options fail to address the welfare of the borrower who actually defaults, the authors note.

Tuesday Quick Hits:

New smartphone designed for older adults. Japanese electronics giant Fujitsu offers a line of "RakuRaku" phones with simplified user interfaces, large text buttons and a touch screen that creates the feeling of a physical button. Rakuraku means "easy" or "comfortable" in Japanese.
Photo: Tom Grill/Getty Images