A Sad Lesson About COPD From Leonard Nimoy
By Candy Sagon , February 27, 2015 05:37 PM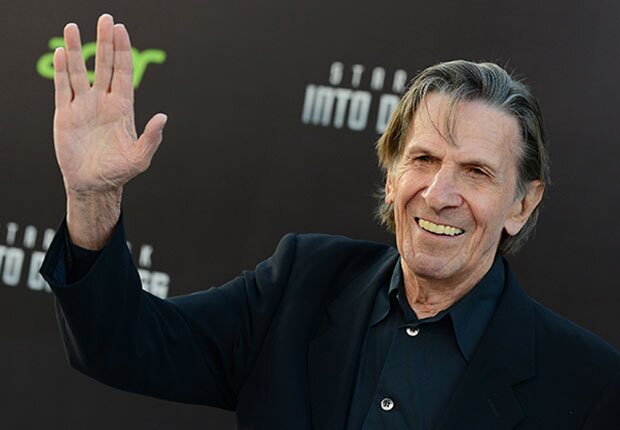 Actor Leonard Nimoy — Mr. Spock to his legions of Star Trek fans — has died at age 83 from a destructive lung disease called COPD, telling his fans in a poignant tweet last month: "Don't smoke. I did. Wish I never had."
His wife confirmed his death to the New York Times, saying the cause was end-stage COPD, or chronic obstructive pulmonary disease. He had been hospitalized earlier in the week.
COPD is one of the most common lung diseases and the third leading cause of death in the U.S., causing nearly 135,000 deaths a year. There is no cure. COPD causes inflammation and damage to the lung tissue, making it increasingly difficult to breathe. Symptoms include a chronic cough, shortness of breath and frequent respiratory infections.
Smoking is the most common cause of COPD, but quitting smoking slows the disease's progress, lung experts say. Nimoy had been a smoker but had quit 30 years ago. So how could smoking still play a role in his death?
"That's the most common question patients ask me — 'I've quit smoking; how could I have COPD?' " says Ravi Kalhan, M.D., director of the asthma and chronic obstructive pulmonary disease program at Northwestern University's Feinberg School of Medicine. Unfortunately, he says, there's no way to undo damage to lung tissue that occurred when a person was smoking. "We can control it with medication, like you would diabetes or high blood pressure, but we can't cure it."
Still, quitting smoking is a critical step. "The best thing [Nimoy] did was to quit, because it prolonged his life," says Albert Rizzo, M.D., senior medical adviser to the American Lung Association. As patients get older, however, they often find it harder for their damaged lungs to fight off respiratory infections, he adds.
Nimoy, famous as the half-Vulcan, half-human first officer on the Starship Enterprise, had announced last year that he was battling COPD and urged his friends and fans to stop smoking. "I quit smoking 30 yrs ago. Not soon enough. I have COPD. Grandpa says, quit now!! LLAP," he tweeted. ("LLAP" stands for his oft-repeated Vulcan salutation, "Live long and prosper.")
A little-known actor before he was cast as the pointy-eared, ceaselessly logical sidekick to William Shatner's Captain Kirk in the Star Trek television series, Nimoy went on to have an eclectic career as a movie actor and director, writer, poet and singer. In his 40s, he even earned a master's degree in Spanish, the Times reported.
>> Get discounts on health services with your AARP Member Advantages.
In tribute to the actor, Shatner wrote on Facebook, "I loved him like a brother. We will all miss his humor, his talent, and his capacity to love." And fellow actor George Takei, who played Sulu on the series, tweeted: "Today, the world lost a great man, and I lost a great friend. We return you now to the stars, Leonard. You taught us to 'Live Long And Prosper,' and you indeed did, friend. I shall miss you in so many, many ways."
Even President Obama tweeted, "I loved Spock," adding in a press release, "Long before nerdy was cool, there was Leonard Nimoy."
Obama said he met the actor in 2007, greeting him, of course, with, "Live long and prosper." The president added, "And after 83 years on this planet — and on his visits to so many others — it's clear Leonard Nimoy did just that."
Photo: Jordan
A lso of Interest

See the AARP home page for deals, savings tips, trivia and more.