Bedtime Blood Pressure Meds May Help Prevent Diabetes
By Candy Sagon , September 25, 2015 10:31 AM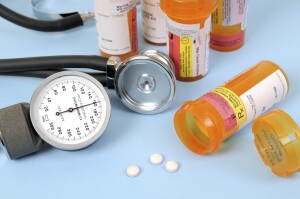 Sometimes it's not just a matter of taking your medication, but also when you take it that's paramount.
That's the surprising conclusion of a new study that found that taking your blood pressure pills at bedtime, rather than waiting until morning, can cut your risk of developing type 2 diabetes by more than half.
Spanish researchers with the University of Vigo conducted two related studies, both published Sept. 23 in the journal Diabetologia, that tested the link between blood pressure during sleep and the development of type 2 diabetes.
In healthy people, blood pressure dips during sleep, but it doesn't substantially in those with hypertension. The researchers found in one study that subjects whose blood pressure didn't dip were more likely to develop diabetes compared to those whose blood pressure did go down.
Read the latest discoveries, exercise and memory-sharpening tips, health care reform and more! — AARP Health Newsletter »
Specifically, for every 14-point decrease in a person's average sleeping systolic blood pressure — that's the top number in the blood pressure reading — there was a 30 percent reduction in their risk of developing type 2 diabetes, lead author Ramon Hermida, a professor of medicine, told HealthDay News.
The researchers then reasoned that taking medication at night to help reduce blood pressure during sleep might also affect the likelihood of developing diabetes.
Their findings in the second study were dramatic: The risk of developing diabetes dropped by 57 percent in the patients who took their medicine at bedtime compared to the morning.
The drugs that produced the greatest reduction in risk when they were taken at night were angiotensin receptor blockers (61 percent); beta blockers (65 percent); and ACE inhibitors (69 percent). These medications help block the effect of angiotensin II, a hormone that causes blood vessels to constrict and blood pressure to rise. It also affects insulin levels.
There were also no more medication-related complaints among nighttime takers than among those who took their medications in the morning, the Los Angeles Times reported.
University of California, Los Angeles, endocrinologist Matthew Freeby, M.D., who was not involved in the studies, called the findings "compelling," especially because the protective effect of taking medications at night occurred regardless of which class of blood-pressure drugs the subjects took, he told the Times.
"I would absolutely consider" suggesting a patient switch to taking medications at night, Freeby said.
Get discounts on prescriptions, health exams, eye care and more — AARP Member Advantages »
Earlier studies have not shown any type 2 diabetes prevention benefit from blood pressure medications, but that may be because people were asked to take the drugs in the morning, Zachary Bloomgarden, M.D., a professor of medicine at the Mount Sinai Icahn School of Medicine in New York City, told HealthDay.
"This could be a very important study, which would influence how we treat high blood pressure in people with diabetes and people at risk for diabetes," he said.
Photo: doublediamondphoto/iStock
Also of Interest

See the AARP home page for deals, savings tips, trivia and more.