CDC: Flu Shot Should Be Better This Season
By Candy Sagon , September 17, 2015 04:42 PM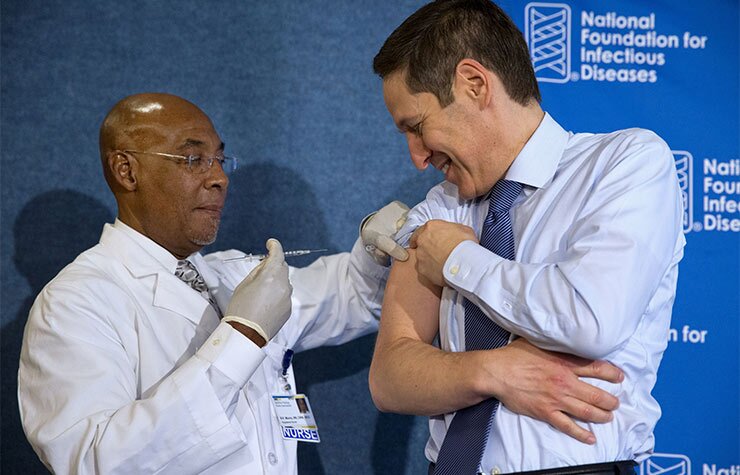 En español | With flu season about to start, health officials reassured Americans that the new, updated flu vaccine now available should do a better job than last year's.
The 2014-15 flu season was particularly nasty, thanks to a major flu strain that changed after the vaccine had already been manufactured. As a result, last year's vaccine was only 13 percent effective against the virulent H3N2 strain, causing the highest hospitalization rate among older adults that the Centers for Disease Control and Prevention (CDC) had ever recorded, said director Thomas Frieden.
This year's vaccine should be better, Frieden said at a Thursday news conference, where he rolled up his sleeve and got his own flu shot. An analysis of the flu strains in about 200 early cases this year finds that most matched the strains in this season's vaccine and all were susceptible to antiviral medications. "So far what we've seen is encouraging," he said.
Read the latest discoveries, exercise and memory-sharpening tips, health care reform and more! — AARP Health Newsletter »

Still, flu is unpredictable. "Influenza viruses are always mutating. It's their natural evolution. You just hope the mutations remain small enough" that the vaccine is still effective against them, said influenza researcher Pedro Piedra, M.D., with the Baylor College of Medicine in Houston.
Even at its best, the flu vaccine is only 50 to 60 percent effective, but it's biggest benefit is protecting against the disease's most severe consequences, such as hospitalization and death, Piedra told AARP. That's why it's so important for older adults — especially those 65 or older — to get a vaccine, since they are the ones the most hard hit, Piedra said.
For those of you who pooh-pooh getting a flu shot — and according to the CDC, that's more than 50 percent of Americans — then don't do it for yourself, do it to protect those around you, such as children and the elderly, Piedra said. "Getting a vaccine helps create a bigger zone of protection around the most vulnerable, making it harder for the viruses to take hold."
The CDC estimates that only 47 percent of the U.S. population was vaccinated last season. And while 67 percent of those 65 or older got their flu shot, that still leaves millions at risk.
Get discounts on prescriptions, health exams, eye care and more — AARP Member Advantages »
As Kaiser Health News reported, the most recent CDC data shows that 1 in 3 seniors each year skips the flu vaccine, and vaccination rates for those who are 65-plus haven't increased much — hovering around 65 percent for more than 15 years. The federal government's goal is 90 percent by 2020.
To combat this year's flu, more than 170 million doses of flu vaccine are being produced, and 40 million have already been distributed. Among the options are traditional shots, including one with a much smaller needle; a nasal spray; a high-dose version for seniors; an egg-free vaccine — even a needle-free jet injector for the squeamish.

"Vaccination is easier and more convenient than ever," the CDC's Frieden said. "It's the best way to protect yourself, your family and your community against flu."
Photo: Jacquelyn Martin/AP
Also of Interest

See the AARP home page for deals, savings tips, trivia and more.