How to Get Food to More People Who Need It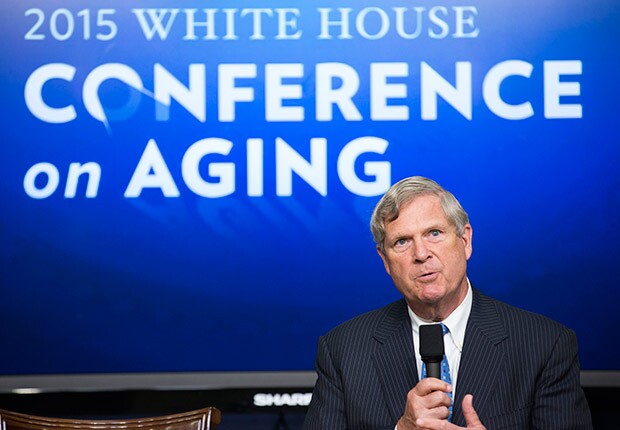 Secretary of Agriculture Tom Vilsack announced this week a proposed program to improve access to groceries for homebound older Americans and people with disabilities who participate in the Supplemental Nutrition Assistance Program (SNAP), formerly known as the food stamp program. AARP spoke with Vilsack about the pilot program and food insecurity among older adults.
How will the program work? And why is it important?
This program will fund 20 eligible entities — government or nonprofit organizations — that will allow the utilization of SNAP benefits for seniors to pay for delivery of groceries. We're hoping this set of pilot efforts could potentially help nearly 1 million seniors access food who otherwise would not use SNAP benefits.
Join the Drive to End Hunger and help solve the problem of senior hunger in America. »
What groups could be part of this program?
We are talking about Meals on Wheels and senior centers that are financed and provided by local governments. The idea is to try to reach as many of the 9.3 million seniors who are food insecure. SNAP program benefits reach about 4 million of that population.
How will the pilot program work? What's the timeline for it?
We'll be putting out shortly a request for applications that will allow folks to be one of the eligible entities. We'll make an effort to get those decided very quickly.
Why do you think so few seniors who are eligible for SNAP participate in the program?
One reason is that they may be homebound, they may not have adequate transportation or access to a grocery store and therefore may not see the benefit to participating in SNAP. But I think primarily it's a lack of understanding that they may qualify for the program or there's a process that you have to go through, and for senior citizens that can be cumbersome and difficult. Lastly, I think it's a pride issue. People don't understand that it's in our collective long-term best interest that senior citizens utilize SNAP because it will lead, I believe, to fewer hospitalizations, fewer emergency room calls and less medical expenses. And it should allow people to stay in their homes independently longer, which means we will not have to pay for nursing home or assisted living care, which is very expensive and is often paid for through government programs.
A recent report from Feeding America revealed that boomers ages 50 to 64 are turning to charities for food assistance and becoming the new face of hunger in our country. Any comment on that?
I don't know if it's necessarily a new issue. I think the poverty rate for seniors has come down in some rural areas, and among women is still higher than we would like. Frankly, I think Feeding America and programs like Feeding America are doing even a better job of outreach, and people are becoming aware. And what this SNAP program will potentially do is create greater awareness on the part of folks that they may qualify for a program, and they may understand that it's not welfare — it's food assistance. There is a difference.
Get discounts health exams, prescriptions and more — AARP Member Advantages. »
What else is the USDA planning to reduce participation barriers and increase access to healthy food?
We are continuing efforts to expand the ability to use SNAP benefits at farmers markets, which we have done aggressively for the last several years and will continue to do so. Not every farmers market is capable of receiving SNAP benefits because they don't have the technology. Secondly, we'll continue to promote the Senior Farmers Market Nutrition Program, in which more than 800,000 seniors are currently participating. We'll continue to focus on improving meal standards at adult care facilities. We will continue to look at ways in which we can convince Congress to allow us to lengthen that recertification time for SNAP so that seniors are not inconvenienced every two years and have to go to an office to recertify.
Photo: Joshua Roberts/Getty Images for AARP
Also of Interest

See the AARP home page for deals, savings tips, trivia and more.