New FDA Warning About Testosterone and Aging Men
By Candy Sagon , March 05, 2015 08:00 AM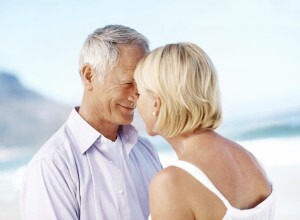 The Food and Drug Administration has a message for older men: Just because your testosterone level has dipped as you age doesn't mean you need to take testosterone replacement drugs. In fact, the drugs could increase your risk of heart problems.
In a new statement, the agency warned about overuse of the popular "low T" drugs to relieve symptoms in men who have low testosterone "for no apparent reason other than aging." The FDA cautioned doctors about prescribing the medications inappropriately and required drugmakers to add information to the label about the increased risk of heart attack and stroke.
Testosterone, the hormone that helps maintain a man's bone density, muscle strength and sex drive, naturally declines as a man ages — about 1.6 percent each year after age 40. A lower hormone level can cause sleep disturbances, moodiness, fatigue and low libido, according to the Mayo Clinic, and many men see the drugs as a way to lessen these symptoms.
However, testosterone replacement drugs are only FDA-approved for men who have low levels due to medical problems, including testicle damage or a condition called hypogonadism, which causes abnormally low amounts of the hormone. There is no solid evidence that the drugs are safe or beneficial for treating low testosterone levels in otherwise healthy older men, the agency noted.
That hasn't stopped the drug companies, who in the past decade have heavily advertised "low T" drugs to older men as an antidote to aging. Sales of the drugs have soared to $2 billion as of 2012.
At the same time, some recent studies have found that taking testosterone may increase the risk of heart attack — as much as doubling it in men over 65. Other studies, however, have not found this effect.
Still, some say the FDA should have issued a warning about possible heart risks much sooner. Public Citizen's Health Research Group, a consumer group, petitioned the agency in February 2014 to add a black box warning — the strongest kind possible — to the label, a request that was denied.
Other experts aren't sure the FDA should have required any kind of warning. "I am not sure that the FDA can say with certainty that this can lead to an increase in cardiac events," Aaron E. Katz, M.D., chairman of urology at Winthrop-University Hospital in Mineola, N.Y., wrote in an email, adding that there have been "many recent studies that find no increased [cardiovascular] risk in men" without a history of heart disease.
>> Get discounts on health services with your AARP Member Advantages.
Boston urologist Abraham Morgentaler, who published an analysis last month in the Mayo Clinic Proceedings that found no increase in heart risks for men taking testosterone, called the FDA's warning "bad news for men."
"It will make it even more difficult for men suffering from true testosterone deficiency," he told USA Today.
On the other hand, Katz agrees with the government that there has been a dramatic increase in testosterone prescription in recent years, "possibly due to increased marketing and inappropriate therapy." Many men who are prescribed testosterone, he said, "never had a baseline blood test to document low levels."
The FDA is also requiring drug companies to conduct "a well-designed clinical trial" to help answer the question of whether these drugs really can increase a man's risk of heart attack or stroke.
Photo: Kupicoo/iStock
A lso of Interest

See the AARP home page for deals, savings tips, trivia and more.