New 'Female Viagra' Pill: Will It Help Older Women?
By Candy Sagon, August 19, 2015 04:05 PM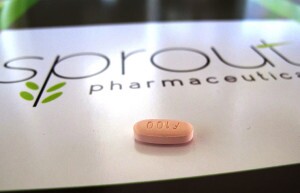 The Food and Drug Administration (FDA) has approved the first medication designed to treat lack of sexual desire in premenopausal women, although some experts say it may be helpful for older women as well.

The approval comes after a controversial lobbying campaign in June by the drug's makers and other groups accusing the federal agency of gender bias in not approving a sexual dysfunction drug for women.

The FDA denied the charge, saying erectile dysfunction drugs for men work far differently than a low-libido drug for women. Viagra-type drugs increase blood flow to the penis to enhance erections and are taken when needed. The newly approved women's drug — which will be marketed under the name Addyi (pronounced AD-ee) — is a type of antidepressant, affecting brain chemicals that trigger arousal and desire, and must be taken daily.

Holly Thacker, M.D., a women's health specialist at the Cleveland Clinic, said the drug could be a "game changer" for women with sexual dysfunction. "It won't help all women with sexual problems, but it will have a role in therapy," she said in an email.

But Public Citizen, a consumer watchdog group that testified against the drug in June, said the FDA's decision ignores "serious dangers to women, with little benefit, and recklessly disregards the worrisome risk information." Founder Sidney Wolfe, M.D., predicted the drug will be pulled from the shelves in a few years because of its harmful side effects. "Unfortunately, we haven't heard the last of this drug," he said in a statement.

Addyi (generic name flibanserin) has had a rocky history, starting out as a failed antidepressant, then being repurposed because it seemed to help some women jump-start their sex drives. The effects are modest, but the side effects have worried FDA advisory panels: dizziness, sleepiness, low blood pressure and fainting, especially when combined with alcohol and some other medications.

When it hits the market in mid-October, Addyi will come with an FDA-mandated boxed warning about the risk of low blood pressure and fainting in patients who drink alcohol while taking the drug, and the requirement that doctors complete a special training course in the drug's side effects before being allowed to prescribe it.

Drugmaker Sprout Pharmaceuticals CEO Cindy Whitehead emphasized that Addyi is not for women "who have lost interest in sex because of a problem with their partner" or because they're too tired or stressed taking care of their family. "Those are normal sexual fluctuations" that can be helped in other ways, Whitehead said in a press conference.

Instead, it's for the 1 in 10 women with hypoactive sexual desire disorder (HSDD), a loss of sexual desire that is not due to a "co-existing medical or psychiatric condition, problems within the relationship, or the effects of a medication or other drug substance," according to the FDA.

Although Addyi has been approved for use only in premenopausal women, there are some indications it could be helpful in older women "and Sprout plans to pursue this in the future," said Addyi researcher Anita Clayton, M.D., of the University of Virginia School of Medicine.

Get discounts on prescriptions, health exams, eye care and more — AARP Member Advantages »

A 2013 study by George Washington University researchers of about 950 postmenopausal women with HSDD found the drug helped improve sexual desire similar to its effect in premenopausal women.

Brett Worly, M.D., a female sexual dysfunction expert at the Ohio State University Wexner Medical Center, is cautiously optimistic that Addyi could help women over 50. "Some postmenopausal women may have a positive response from the medication, and there is a strong 'placebo' effect for all people with sexual problems," he said in an email.

Whether pre- or postmenopausal, "it is important for each woman to talk with their doctor to discuss the risks and benefits of the new medicine and make a decision together," he added.

Photo: Allen Breed/AP


Also of Interest

See the AARP home page for deals, savings tips, trivia and more.