Older Voters Back Front-Runners, but Clinton Slips in Michigan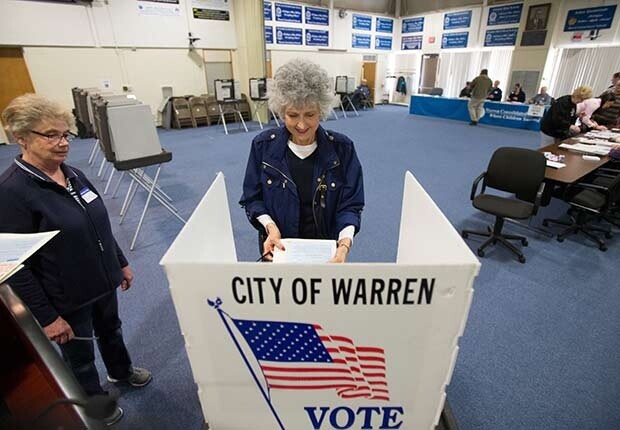 Older voters strongly favored Republican Donald Trump and Democrat Hillary Clinton in the Michigan and Mississippi presidential primaries, as the party front-runners increased their delegate count.
But Clinton's share of voters 45 and older fell in Michigan, compared to her results in some other states. That allowed Sen. Bernie Sanders of Vermont to narrowly win Michigan's Democratic primary, propelled by his continued strong showing from younger voters, according to exit polls by the National Election Pool.
Trump ran strongly with younger as well as older voters in Michigan and Mississippi. Also on March 8, Trump won the Republican caucuses in Hawaii, while Sen. Ted Cruz of Texas took the Idaho GOP primary. No exit polls were conducted in those two states.
Help bring relief to struggling seniors; find volunteer opportunities near you »
In Mississippi, where he won overall with 47 percent of the vote, Trump took 54 percent from voters 65 and older, and 49 percent from those 45 to 64. He also got 45 percent from voters 18 to 29 to lead the Republican field. But he narrowly trailed Ted Cruz, 43 percent to 41 percent, among those 30 to 44.
Trump led or tied among all age groups in Michigan. He got 42 percent from seniors, 41 percent from voters 45 to 64, and 31 percent from those 18 to 29. His 31 percent among voters 30 to 44 tied him with Cruz.
In Michigan, Clinton won 68 percent from those 65 and older and 57 percent from voters 45 to 64, according to exit polls. That was virtually the same as her support in the Iowa caucuses, which she narrowly won, but less than she has received in most southern states.
She continued to lag among younger voters, with Sanders getting 81 percent from those 18 to 29, and 55 percent from voters 30 to 44. But older voters did not turn out as strongly in Michigan: 55 percent of the total vote came from those 45 or older, compared to 64 percent in Iowa.
In Mississippi, where Clinton won 83 percent of the total vote, she took 90 percent from those 45 to 64. In a state where 76 percent of the Democratic turnout was from nonwhite voters, she won 62 percent of the vote from those ages 18 to 29 and 79 percent from voters 30 to 44. Turnout figures showed that 60 percent of the Mississippi Democratic voters were 45 or older.
Older Voters were a large share of the Republican constituency, with 65 percent in Michigan and 71 percent in Mississippi.
Next: Primaries on March 15 in Florida, Illinois, Missouri, North Carolina and Ohio.
Photo: Geoff Robins/AFR/Getty Images
Also of Interest

See the AARP home page for deals, savings tips, trivia and more.