Still Cool After 84 Years: The 2-Ingredient No-Bake Cake
By Candy Sagon , July 10, 2013 08:15 AM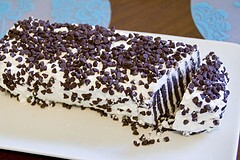 My mother made it in the '50s. My grandmother made it in the '30s. And as it enters its eighth decade, food bloggers and home cooks are still touting this no-bake dessert's simplicity and great taste.
I'm talking about the chocolate wafer icebox cake or zebra cake or whatever you might call the cookies-and-whipped-cream confection that's been around since Nabisco introduced it in 1929.
>> Slideshow: Top 15 Superfoods for People Over 50
Back in 1924, Uneeda Bakers (now part of Nabisco) came out with midnight-dark, crisp chocolate wafers. By 1929, Nabisco was running ads for using its Famous Chocolate Wafers to make an incredibly easy chilled dessert: Slather the wafers with sweetened whipped cream to make a roll, then chill overnight in the fridge.
The next day, slice the roll on the diagonal and voila! Zebra-striped slices that make the perfect cool and creamy summer dessert.
In case you need some help picturing this "recipe," the Food52 blog recently offered "How to Make Any Icebox Cake in 5 Steps."
If mini-icebox cakes appeal to you, check out the idea at TheKitchn.com.
Need another sweet way to keep your kitchen cool this summer? Try our no-bake 10-minute mocha pots de creme from cookbook author Abby Dodge.
Photo: letterwoman via flickr.com

Also of Interest

See the AARP home page for deals, savings tips, trivia and more