The Takeaway: Cellphone Inventor Shines at Webbys; GOP Debate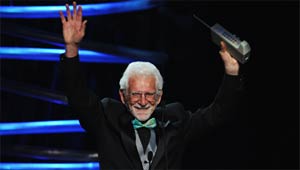 If it wasn't for him "we'd probably all be working at White Castle."

In a room where most people were less than half his age, Martin Cooper was clearly THE MAN. Cooper, 82, is widely known as the inventor of the cellphone while an engineer at Motorola in the 1970s. As he accepted his lifetime achievement honor at last night's Webby Awards, the crowd erupted and some held up their phones in homage. Introduced as the man who changed the game and changed our lives, Cooper held up his original 2 pound 1973 Dyntech prototype and calmly asked: "Can you hear me, now?" (AARP was also a winner last night: People's Voice Award - Association Website.)

... First presidential debate: Seven GOP presidential hopefuls faced off in New Hampshire last night. In the first debate of the primary season, the contenders focused on the economy and health care. What you need to know about the health care law. Also: Can you balance the budget?

... Older workers, please apply. "At a time when employers are often reluctant to hire older job applicants, one company not only embraces its mature workforce, but is becoming almost famous for it. Of the 47 employees who work manufacturing medical needles, tubing and fabricated parts, just two are in their early 20s. They're known as "the kids." ... But what about the older workers who refuse to leave? An interesting question on workplace productivity was posed in yesterday's Room for Debate feature on NYTimes.com: Do Older Workers Need a Nudge? ... Brain food. Check out Candy Sagon's recent posting on a new study that suggests eating a diet low in saturated fat and sugary treats can improve your memory. ...

More than a little joint pain. "Say arthritis, and people tend to shrug it off as a rite of passage of aging. The reality is much more complicated. Arthritis encompasses 100 different conditions and affects about 46 million people in the U.S."

See "In the News" for more on current events, entertainment and how it all relates to you.

(Photo: Martin Cooper accepts his lifetime achievement award onstage during the 15th Annual Webby Awards at Hammerstein Ballroom on June 13 in New York. - Jamie McCarthy/Getty Images)