The Takeaway: Cigarette Labels; COLA; Emergency HUD Loans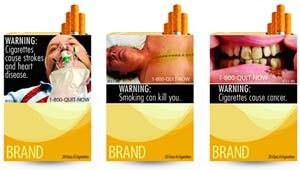 Will the new cigarette labels stop you from smoking? The federal government unveiled nine graphic images that appear on all cigarette packs and ads as part of a powerful new warning strategy. What do you think? Are the new labels more "fear factor" than effective? Something else to consider: Smoking linked to more aggressive prostate cancer. A report in this week's Journal of the American Medical Association says men with prostate cancer who are cigarette smokers at the time of their diagnosis are much more likely to die of the disease. ...
Some good news: A Social Security cost-of-living allowance is coming: But don't get too excited. The January 2012 COLA is expected to be modest. ... The U.S. Department of Housing and Urban Development is offering emergency funding for people struggling to pay their mortgage. Homeowners facing foreclosure have until July 22 to "pre-apply" for a forgivable loan up to $50,000 through the Emergency Homeowner Loan Program (EHLP). ...
Statins linked to diabetes risk. A study in Tuesday's JAMA reports that cholesterol-lowering drugs may trigger diabetes. But don't stop taking your meds, experts warn. ... Relief for people with pre-existing conditions: Next month, a nationally funded health-care program will lower premiums and relax eligibility for some people with pre-existing conditions ranging from low blood pressure to cancer. ... For women, friendship really can get better with age ... Obesity and lack of exercise linked to chronic pain
... Two studies released Tuesday examine employer-based health insurance. About 61 percent of people (not including those eligible for Medicare) are covered through their employer: "Even though the number of Americans with health insurance through employers has declined, most will continue to get coverage through their jobs after the new healthcare law takes full effect." ... Will housing take another hit as 50+ begin to sell their homes? ... New research shows many want to age in place - but most have no plan.
See "In the News" for more on current events, entertainment and how it all relates to you.
(Photo: FDA/Reueters)