4 More Ways to Cut Back on Your Fundraising Mail
A few weeks ago, I shared some thoughts on how to cut back on the mail/email you receive from well intentioned organizations. There were some excellent comments from readers that pointed out some additional issues that may increase the volume of mail or emails you receive. So, here are some additional suggestions on how to clear the email/mail box:

1. Call and ask organizations you support not to sell or exchange your name and address. It is standard practice for nonprofits to exchange lists. This is usually handled ethically and carefully, as typically no funds are exchanged and there are often limited uses attached to the exchange agreement (e.g., one-time use only), and only very limited information is shared. The organization is looking for "like-minded" individuals who may have the desire to support their cause based on their giving patterns, and exchanging lists with another like-organization is an effective approach. Other organizations may sell their lists as another way to generate revenue, which is not a practice I advocate. I believe the relationship with the donor is far to important to treat their personal information (even in this very limited way) as a commodity. So, let the organizations you support know that you don't wish to have your name exchanged or sold.

2. Don't just throw it away. When you get mail from good organizations you have no intention of giving to, send the letter you received into the envelope they sent you (usually a prepaid postage envelope - so you don't even have to pay for the stamp) and write a kindly worded note that asks them to remove you from their phone, email and mail lists. Believe me, they will appreciate it. It saves the organization money and they really don't want to send you mail you don't want.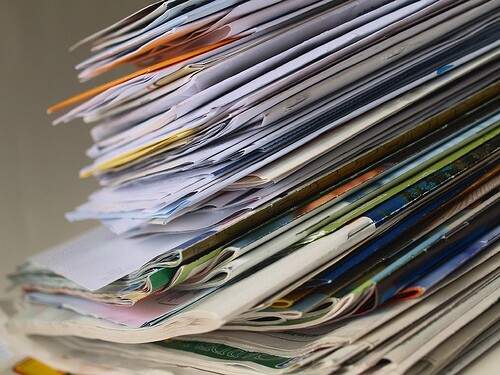 3. Don't just delete it. Same goes with email. At the bottom of each email (usually in small print), good intentioned organizations include an "opt-out" link. Simply click on the link and follow the instructions for removing you from their solicitation list.

4. Don't ignore those calls. If you are like us, my wife and I don't always answer our home phone. For those of you who have caller ID, you say "I don't know that number, so I'm not going to answer it." Some organizations are easily identifiable. When they call you and you don't want solicitations and have no intention of giving to them, answer the phone! Then ask (kindly, of course) the following:

Thank you for calling.  I (we) have made our decisions regarding our giving and this is not a cause we wish to support.  So, please remove us from your lists:  your phone, mail and email lists.  I know this will help save you time and resources and they are so precious these days.  I know you can appreciate that.  Thanks again."

And then hang up. That's all you need to do.

There is nothing that will remove every unwanted fundraising appeal from your mail, email or voicemail box, but following these steps can help. More importantly, it will help good organizations apply a little bit more of their precious resources on achieving their stated purpose. And that is good for everyone.

You can follow me on Twitter @Whitehead_Dave.

Photo credit by: uzvards