5 Ways Volunteering Can Help You Decide Who To Give Money To
By Reed Sandridge , August 03, 2011 09:58 AM
This is a guest blog post from Reed Sandridge. Sandridge lost his job in 2009 and did the unthinkable - he started giving away $10 a day to complete strangers! He captured the story of every recipient at www.yearofgiving.org. A frequent writer and speaker on volunteering and micro-philanthropy, Sandridge lives in our nation's capital.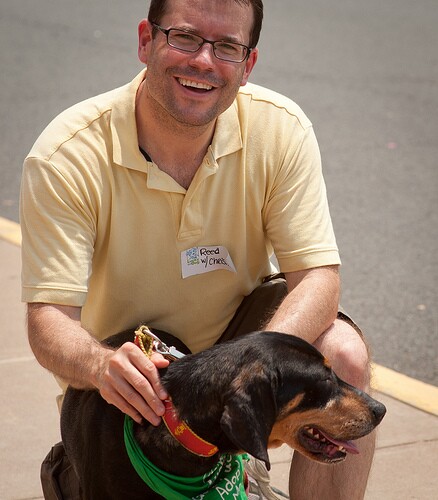 We get asked all the time to help support all kinds of organizations. From the canvasser on the street asking you to donate to Planned Parenthood to your granddaughter asking you to buy wrapping paper to help support her school, we are constantly bombarded with messages from organizations that claim to need our help. But with so many people soliciting, how do you decide who to give to?
Volunteering is a great way to get to know an organization better to determine if you should include them in your annual giving plan - and if you don't have an annual giving plan already established, I'd back up and start there. Definitely sit down on a yearly basis and look at all the organizations that you would like to help and make a plan for which ones you will support and how much you are able to contribute. Then, stick to it. I always include about 10% for discretionary giving for items that come up unexpectedly throughout the year.
So the next time your local hospital calls or you get one of those letters asking you to support a child half way around the globe and you are thinking about sending them some money, you might want to see if there is any way that you can volunteer with them first to help you evaluate your investment options.
Here are five ways that volunteering will help you determine whether or not an organization is a good fit for your personal philanthropy.
Validate your interest in the cause - We often get pulled in many directions and charities are very savvy at appealing to our emotional vulnerabilities, so it is not uncommon for us to get swept up in the moment about a particular cause and want to support it only to find out months later that our real interest lies elsewhere. Volunteering can serve as a litmus test to measure your real commitment to the cause.
Validate your interest in the organization - Once you have confirmed that you do have a steadfast interest in the cause, you want to be sure that the organization is doing the kind of work that you want to support. It would be hard to find people who didn't think it was a good thing to help reduce childhood obesity, improve literacy, find a cure to cancer and many other righteous causes, however, until you get close to an organization it is often hard to understand how they go about furthering their mission. Volunteering peels back a few layers of the organization's strategy allowing you to appreciate their day to day efforts. Are they on the ground doing the frontline work or are they more focused on shaping policy? Both are fine, however, you want to be sure that the work aligns properly with your beliefs.
Gain insight into overall effectiveness - Although there are certainly exceptions, an organization that successfully manages and interacts with their volunteers probably is equally as effective in their field work. A group that appears to be unorganized and unable to properly use volunteers may very well have a much deeper and more systemic dysfunction embedded in the organization's DNA.
Find where the money goes - Ever wonder where your money goes? While you are volunteering pay attention to how they spend their money (which used to be our money!) Do they embrace practices that improve economic efficiency or is there wasteful spending. Again, it doesn't mean that if you see some inefficient use of funds that the entire organization is not worthy of your support, but you might want to consider restricting your giving to the areas that you feel will leverage the greatest outcome.
Learn of other ways to help - Through your volunteer service you will form relationships with various elements of the organization. As your interest and commitment grow you might discover that you are able to help them in other ways. Perhaps you can make introductions for them to your friends or throw a party to help raise funds. If you have a good idea that will clearly help the organization succeed, they will likely bend over backward to make it happen. Remember though, that nonprofits often have lean staffs and are not able to spend a great deal of time on projects or ideas that are not clearly tied to furthering their mission.
In the end it's a lot like dating. Before you tie the knot, or write the check in this case, you want to get to know the other person to determine that they are the best match for you. It won't cost you anything and you might even develop a life-long relationship with an organization and its staff and fellow volunteers.
Miss a post by Sandridge?
Post 1: Reed Sandridge: Giving During Desperate Times
Post 2: Breaking Down the Barriers of Self-Centeredness
Post 3: Volunteering on Your Next Vacation
Post 5: Changing Trends in Volunteering in America
Post 6: Volunteering Overseas: My Recent Adventure to Ireland
Post 6: Volunteering Overseas: My Recent Adventure to Ireland
Post 7: Ireland: The Best Place in which to Grow Older?
Post 8: Are you a Philanthropist? Maybe
Post 9: AARP Stepping Up Commitment to Volunteerism
Post 10: Cable Companies Helping to Increase Volunteering Rates?
Post 11: A World Without Volunteers