Cable Companies Helping to Increase Volunteer Rates?
By Reed Sandridge, November 9, 2011 03:01 PM
This is a guest blog post from Reed Sandridge. Sandridge lost his job in 2009 and did the unthinkable - he started giving away $10 a day to complete strangers! He captured the story of every recipient at www.yearofgiving.org. A frequent writer and speaker on volunteering and micro-philanthropy, Sandridge lives in our nation's capital.




A few weeks back I got letter in the mail from my cable provider, Comcast, informing me that I would need to order and install something called a "Digital Transport Adapter" by mid-October or my service would be affected. The letter directed me to a website where I entered in some details about my home and the number of television sets I owned. A few days later I received a box containing three kits (although I only have two televisions) that needed installed on each set.

Each one of the kits contained an adapter, remote control, batteries (thanks!), remote control signal receiver, coax cable, power supply and adhesive fasteners. I opened up the instructions, which were four feet long, to figure out what I had to do. Basically the adapter needs to be installed between the cable line from the wall and the back of the television. It's a fairly simple installation, although they did offer to send a technician for a fee, but it adds another remote that needs to be used and reduces some of the features that my television had.

Now if you're still reading you're probably asking yourself, "What the heck does any of this have to do with Comcast helping to increase volunteer rates?" Stay with me, there's an explanation.

According to research conducted by Stanford University's Center on Philanthropy and Civil Society, the key differentiator between someone who volunteers and someone who chooses not to is the amount of television viewed. "People who do not volunteer watch hundreds of hours of additional TV a year compared to people who do volunteer," says the report. "It's not that people don't have enough time to volunteer. People do not volunteer because nonprofits do not provide them with volunteer opportunities that interest them enough to pull them away from their television sets."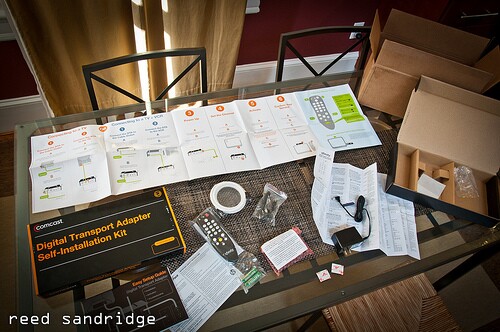 Although I don't watch a lot of television, I jumped through all the hoops to request the adapters, install them, go online after the fact and activate them and now fumble around my house with two remote control devices for each television. That being said, I'll bet that some people will just not bother to do all this. Perhaps, they will use those reclaimed hours to volunteer.

Photo credit by Reed Sandridge

Post 1: Giving During Desperate Times:

Post 2: Breaking Down the Barriers of Self-Centeredness:

Post 3: Volunteer on Your Next Vacation:

Post 4: 5 Ways Volunteering Can Help You Decide Where to Give Money:

Post 5: Changing Trends in Volunteering in America:

Post 6: Volunteering Overseas: My Recent Adventure to Ireland:

Post 7: Ireland: The Best Place in the World in Which to Grow Older:

Post 8: Are you a Philanthropist? Maybe

Post 9: AARP Stepping Up Commitment to Volunteerism

Post 10: A World Without Volunteers