Celebrate 62 Million Strong During National Volunteer Week
Every month, I learn about a new holiday or commemorative date to raise awareness. From the sublime to the ridiculous, there are 30 such commemorations in April, including Vitamin C Day and Wear Your Pajamas to Work Day. While there's a lot to celebrate about taking your vitamins — and taking business casual to the next level — there is one event in particular this month that I believe deserves our attention and support.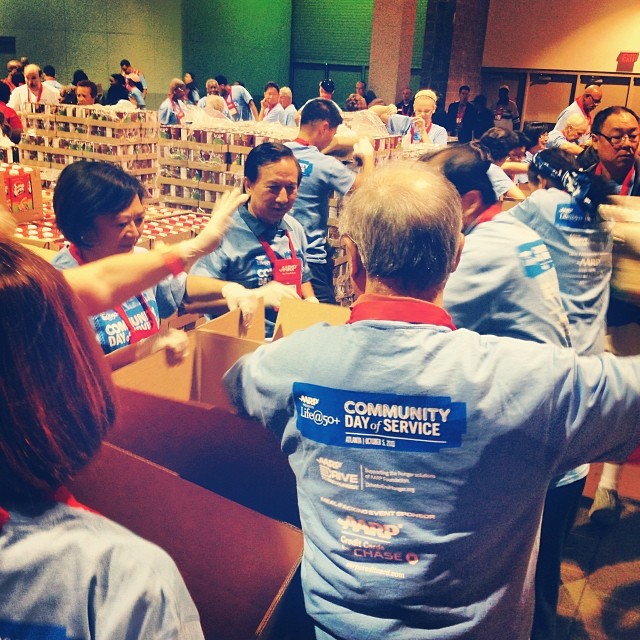 This week marks National Volunteer Week — our annual opportunity to recognize, celebrate and fete the millions of volunteers across the country who make life better for all Americans. At AARP, we are fortunate to have a large cadre of folks who give their time and energy to help us advance our social mission.

Volunteers like Myrtle Habersham, who lends her expertise to make Macon-Bibb County, Ga., a more age-friendly place to live. Or Randee Bloom, a passionate "retired" nurse who connects organizations with skilled nursing volunteers through the Create the Good matching site. People like Suzan Turley, who protects fellow Oregonians from scams and fraud. And I would be remiss not to mention Bob (Hoff) Hoffman, a retired AARP colleague who volunteers as a board member of a neighborhood "village," designed to help neighbors age in place.

Get the latest on Where We Stand — AARP Advocacy Newsletter »

Myrtle, Randee, Suzan and Bob are part of AARP's exceptional team of over 55,000 volunteers who give us their skills — and follow their passions — to make a difference in their communities. These volunteers are at the very heart of who AARP is and what we do as an organization. Without them, we could not achieve our mission to improve the lives of older Americans and their families.

Volunteers are an often invisible — but critical — force for good in our country. There are more than 62 million volunteers across the nation who feed the hungry, help the sick and foster our youth. Other volunteers are supporting our military and veterans, protecting the environment, easing the burden on caregivers, and generally making the world better through myriad acts of kindness and generosity.

I hope you will join me — not just during this National Volunteer Week, but all year long — to recognize and thank this army of angels for all that they do.

Photo — AARP volunteers in Atlanta: Atlanta Community Food Bank/Flickr

Also of Interest



See the AARP home page for deals, savings tips, trivia and more.