Changing Trends in Volunteering in America
By Reed Sandridge, August 10, 2011 01:49 PM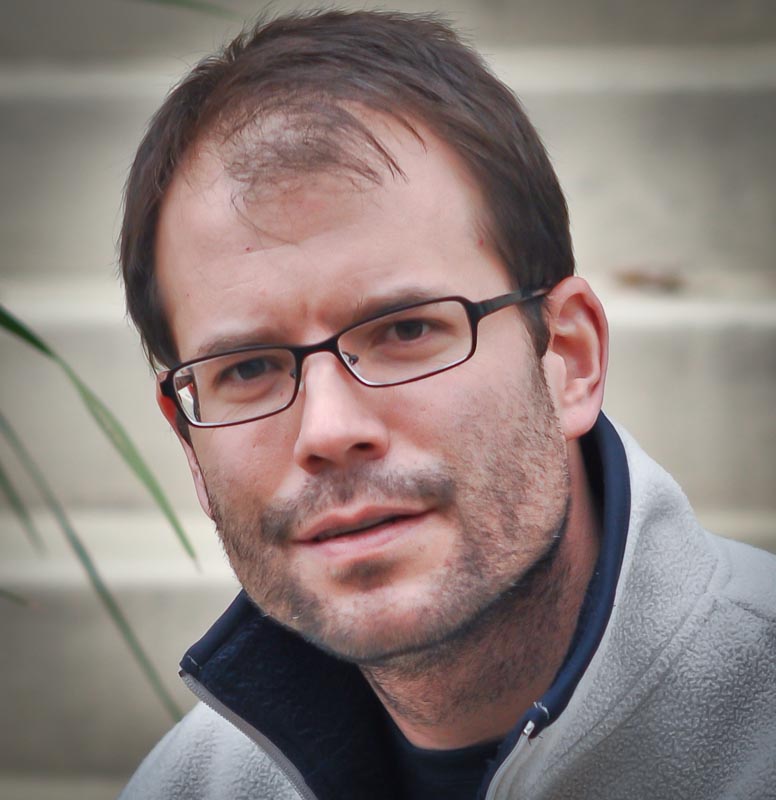 This is a guest blog post from Reed Sandridge. Sandridge lost his job in 2009 and did the unthinkable - he started giving away $10 a day to complete strangers! He captured the story of every recipient at www.yearofgiving.org. A frequent writer and speaker on volunteering and micro-philanthropy, Sandridge lives in our nation's capital.

On Monday the federal Corporation for National and Community Service (CNCS) released data on the volunteer landscape of the United States based on research collected over the past eight years.

The research shows that in 2010 62.8 million adults volunteered a total of 8.1 billion hours. According to Independent Sector, this translates into nearly $173 billion of economic value to communities throughout the country by supplying them with services that very well may not have been provided without the help of volunteers given the economic turmoil of recent years.

The data shows that the percentage of older adults, age 65 and older, who volunteer has remained fairly constant since 2003 at approximately 24%, however, the total number of older adults volunteering has risen from 8.1 million to 9.2 million. In other words, the population of those aged 65 and older has increased over the past eight years, however the percentage of those who choose to volunteer has remained relatively unchanged. And although the total number of volunteer hours increased from 1.5 to 1.7 billion hours for this group, it remains largely unchanged after accounting for the population increase.

Topping the list of states where older Americans volunteer the most is Minnesota which reported that 38.9% of their residents aged 65 and over volunteered last year. Following the North Star State were Iowa, Kansas, Utah and South Dakota. Nevada reported the lowest percentage of volunteers in their state at 16.6%.

I was also curious about veterans. They are a group that I have found to be very keen on service. Just this last Saturday I met up with more than a dozen members of the Montgomery County Chapter of the Vietnam Veterans of America and washed the Vietnam Memorial - something they have been doing once a month for the past 17 years. Despite their unwavering commitment to service, the data on veterans surprised me.

According to the research, the percentage of veterans who volunteer has fallen over the past eight years from 28.6 to 26.6%. Furthermore the total number of veterans who volunteered dropped from 6.7 million in 2003 to only 5.4 million in 2010. Despite these declines, it appears that the veterans who did volunteer in 2010 picked up some of the slack because while the total number of volunteers dropped by 20% the total number of service hours contributed by veterans only dropped by about 10%. It would be interesting to look further into these statistics to understand how the declining number of veterans from WWII, Vietnam and Korea coupled with the increasing number of veterans from Iraq and Afghanistan impacted these figures.

If you were wondering which cities have the highest volunteer rates across all age groups, you'd find Provo, UT (61%), Ogden, UT (52.2%) and Iowa City, IA (50.9%) leading the pack. The study also looked at volunteer hours per resident or the total volunteer hours served divided by the population aged 16 and over. Provo (151.9) and Ogden (108.5) also led this category followed by Bangor, ME (63.9) and Reno, NV (60). It would appear that volunteerism is a stronger part of the culture in the heart of the country than it is on the coasts.

Despite a flat level of growth for seniors and a decline in volunteerism for veterans, there is a group that has increased their service hours tremendously - the so-called millennials: those born in 1982 or after. They have increased from 6.1 million volunteers in 2003 to nearly 12 million in 2010. Their total volunteer hours have shown parallel increases as well skyrocketing from 660 million to 1.2 billion during the same time period! Now, I'd like to think that all of this growth was ignited organically and young people have been inspired by the changing world around them to give back to their community, but the truth is that this hyper-growth is probably fueled more by service requirements in our public school systems coupled with greater access to volunteer opportunities through technology than anything else. Nonetheless, I'm optimistic about our future!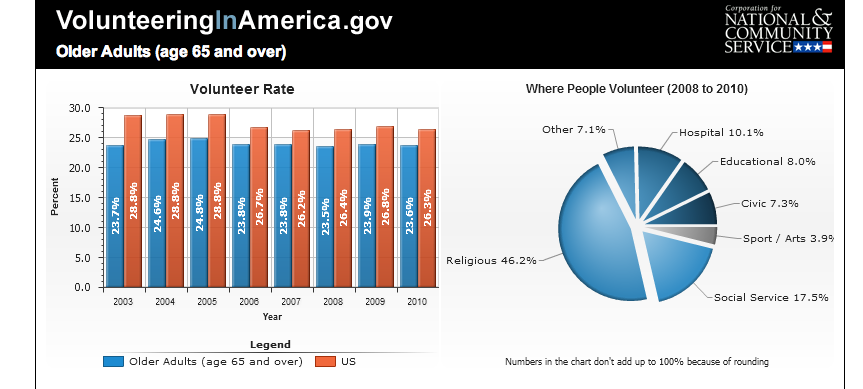 Photo courtesy of CNCS. To visit the CNCS study website, click HERE.

Miss a post by Sandridge?

Post 1: Reed Sandridge: Giving During Desperate Times

Post 2: Breaking Down the Barriers of Self-Centeredness

Post 3: Volunteering on Your Next Vacation

Post 4: 5 Ways Volunteering Can Help You Decide Who to Give Money To

Post 5: Changing Trends in Volunteering in America

Post 6: Volunteering Overseas: My Adventure to Ireland

Post 7: Ireland: the Best Place in Which to Grow Older?

Post 8: Are you a Philanthropist? Maybe

Post 9: AARP Stepping Up Commitment to Volunteerism

Post 10: Cable Companies Helping to Increase Volunteering Rates?

Post 11: A World Without Volunteers